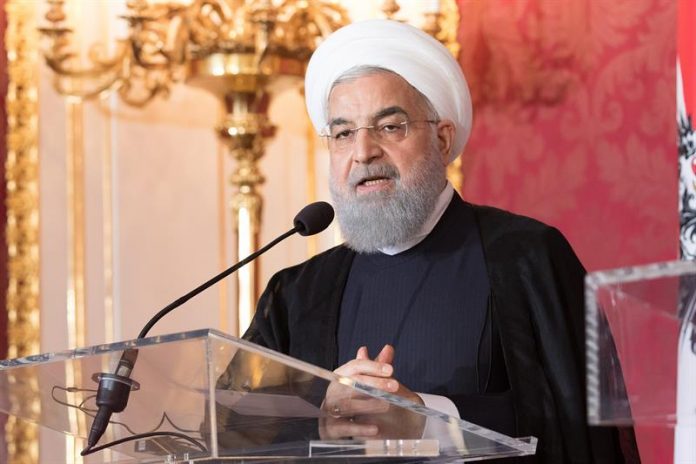 The White House today maintained its hard line towards Iran after the threat of the president, Donald Trump, by insisting that Tehran risks "paying an unprecedented price" if it does something "negative".
"I have talked to the president for the past few days, and President Trump told me that if Iran does anything negative, they will pay a price like few countries have ever paid," said Trump's national security adviser, John Bolton. it's a statement.
Bolton reaffirmed the threat that Trump expressed late on Sunday, when he issued a harsh warning to Iranian President Hasan Rohaní.
"Iranian President Rohaní: NEVER AGAIN WILL THREATEN THE UNITED STATES OR HAVE ANY CONSEQUENCES LIKE THOSE THAT FEW HAVE SUFFERED IN THE HISTORY BEFORE, WE ARE NO LONGER A COUNTRY THAT WILL KEEP HIS DEMENTIATIVE WORDS OF VIOLENCE AND DEATH. Trump said in a message full of capital letters on his Twitter account.
The president responded thus to the Rohaní, who hours earlier had urged Washington "not to play with fire", since to begin a conflict with Tehran would suppose "the mother of all the wars".
In response to Trump's tweet, Iranian Defense Minister Amir Hatami said today that US leaders and their regional allies "only understand the language of force" and that, therefore, "there is no other way than decisive threat ".
"We will not give up, but with all our ability we will defend the vital interests of the Islamic Republic and the well-being of the people of Iran," said the defense minister, quoted by the official IRNA agency.
For his part, shortly before Trump sent his tweet, Secretary of State, Mike Pompeo, had given a speech focused on Iran in which he compared the Iranian government system with the mafia and denounced that Rohaní is not a moderate, but "a wolf in sheep's clothing".
"The level of corruption and wealth among the (Iranian) regime's leaders shows that Iran is governed by something that looks more like a mafia than a government," Pompeo said in a speech in California.
Trump withdrew last May to the country of the nuclear agreement of 2015 (G5 + 1 – also formed by France the United Kingdom, China and Russia, plus Germany) with Iran and returned to impose sanctions on Tehran, which will come into effect next August and threaten to sink the already battered Iranian economy.