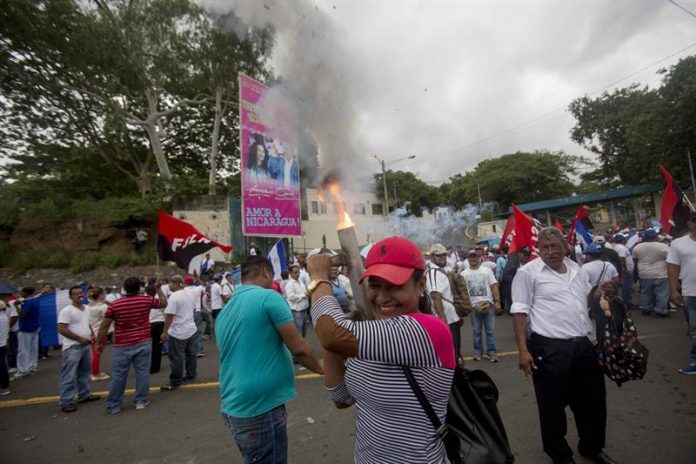 The president of Nicaragua, Daniel Ortega, said today that an advance of the elections in the Central American country, proposed for March 2019, as requested by several States and international organizations, would create "instability and insecurity" and "worsen things."
During an interview with Fox News, Ortega argued that the violent confrontations that Nicaragua has been experiencing since last April, which have caused more than 300 deaths, have been originated by paramilitary groups financed by some opposition deputies and drug trafficking.
Ortega, who presided over the country between 1979 and 1990, and now since 2007, insisted that paramilitary forces have been the ones that have attacked the Nicaraguan police, who sought to protect the population from the revolts.
"At night, when there are no peaceful demonstrations, we have had attacks provoked by the paramilitary forces, organized by people who are against the government," insisted the Nicaraguan president, whose words were translated into English.
In addition, the president said that in recent days there has been a process of "normalization" of the situation and said that there have been demonstrations both for and against his Executive.
The Nicaraguan president already refused at the beginning of the month to advance the elections in his country, arguing that the Constitution establishes mandates of 5 years of duration, reason why the present legislature should not conclude until 2021.
Ortega described the episodes of violence as "real terrorism", and reiterated that the revolts are aimed at ending the government he leads, while reiterating that "no Nicaraguan has died inside a church."
"It has been a campaign of lies, of terrible lies, to try to damage the image of Nicaragua," said Ortega, who was one of the leaders of the Sandinista Revolution against the dictator Anastasio Somoza in the 70s.
However, both the Inter-American Commission on Human Rights (IACHR) and the Office of the United Nations High Commissioner for Human Rights (UNHCHR) have held the Nicaraguan Government responsible for serious human rights violations.
Ortega also had a message for his counterpart, Donald Trump, who recalled that bilateral relations have been "very painful," so he said he does not want history to repeat itself.
"We are a small country with a fragile economy, but we deserve respect," said Ortega before the different pronouncements of Congress and the White House on the crisis of the Central American nation.
Nicaragua has been going through the most bloody sociopolitical crisis since the 1980s – with Ortega also as president – after his government carried out failed social security reforms that served as a trigger for the population to begin protesting its abuses and corrupt them.