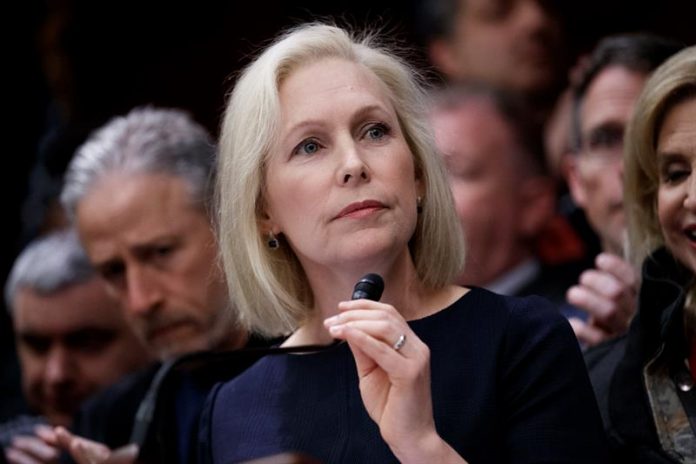 New York, .- The Democratic senator by New York Kirsten Gillibrand announced on Sunday officially his candidacy for the primary elections to the White House of 2020 with a video posted on social networks entitled "Brave Wins" (The courage wins).
Gillibrand joins the long list of Democratic politicians who have already announced that they are running as candidates to represent their party in the upcoming presidential elections, and that they will face each other in the primary elections, in which one is elected of them as a Democratic candidate to occupy the Oval Office.
"Courage does not lead people to face each other, courage does not put money ahead of life, courage does not spread hate, cloud the truth, or build walls," Gillibrand says in a clear critique of the current Administration of Donald Trump.
Gillibrand had already announced last January his intention to run for the US Presidency. in an interview on a television program, after which he has traveled to some of the most important regions of the country.
"I am going to present myself as a candidate for the Presidency of the United States because as a young woman I am going to fight for the children of others as I would fight for mine," he said then in his appearance in the well-known "Late Show With Stephen Colbert".
At the end of today's video, Gillibrand announces a call next Sunday, March 24, against the Trump International Hotel, in downtown Manhattan.
"I'm fighting for a US where we lead with courage and compassion, not fear and greed, and I'm going to take that fight to the very door of President Trump," he said on his Facebook profile.
The policy, of 52 years, is one of fourteen people who have announced that they will try to take control of the Democratic nomination to the presidential ones, of which six are women and six are senators.
However, even more candidates are expected, including that of former Vice President Joe Biden, who on Saturday, in a carelessness, hinted at his possible announcement, which has long been speculating.
"I have the most progressive path of any of the candidates from the States (…) of anyone who comes forward (to the Presidency)," Biden said in a speech during a Democratic party event to raise funds in the state of Delaware. , an apparent slip that provoked applause and cheers among the attendees.
According to the latest surveys of RealClear Politics, Biden has the highest percentage of intention to vote, with 29% on average, followed by Senators Bernie Sanders (22%), Kamala Harris (11.3%), Elizabeth Warren (7%) ) and Cory Booker (5.8%).
In addition to Sanders, Harris, Warren and Booker have also already announced their participation in the primary, Senator Amy Klobuchar or the former Secretary of Housing and former Mayor of San Antonio (Texas), Julián Castro. (EFEUSA)