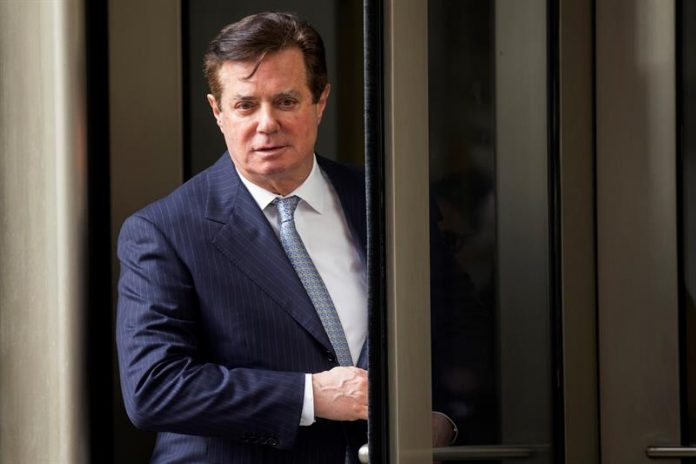 New York, .- The New York Prosecutor's Office is preparing new charges against Paul Manafort, former campaign chief of President Donald Trump, who on March 8 will hear his sentence for one of the eight charges of tax and banking fraud for which he was declared guilty, reported The New York Times.
According to the newspaper, the Manhattan Court Prosecutor's Office fears that President Trump will grant clemency to Manafort to avoid his entry into prison.
With this imputation, it would be ensured that the former manager of the employer's campaign goes to prison, in case of receiving a presidential pardon.
On March 8, Manafort, 69, will know the sentence for having worked between 2006 and 2017 for foreign governments without notifying the Executive of the United States or quoting the public treasury, as dictated by law. The Office of the Prosecutor has requested between 19 and 24 years in prison.
Trump has the ability to grant presidential pardons in federal crimes, as is the case, but not if the sentence is ruled by a state court.
So far, although the president has defended his former campaign manager, he has not openly declared that he intends to use his presidential prerogatives to prevent Manafort from entering prison.
Manafort had to resign as campaign manager of Trump, a position he held between March and August 2016, after it was discovered that he had hidden from the authorities a payment of $ 12.7 million he received for advising the deposed Ukrainian President Viktor Yanukovych (2010 -2014).
According to the newspaper, prosecutors are investigating two bank frauds when it comes to requesting two loans in 2017. These loans were already included in the eight charges of the federal prosecutor for which he was found guilty in August 2018, although the sentences have not yet been issued. been ruled
But at that time, the New York State Attorney's Office postponed their inquiries so as not to interfere in the federal process. (EFEUSA)