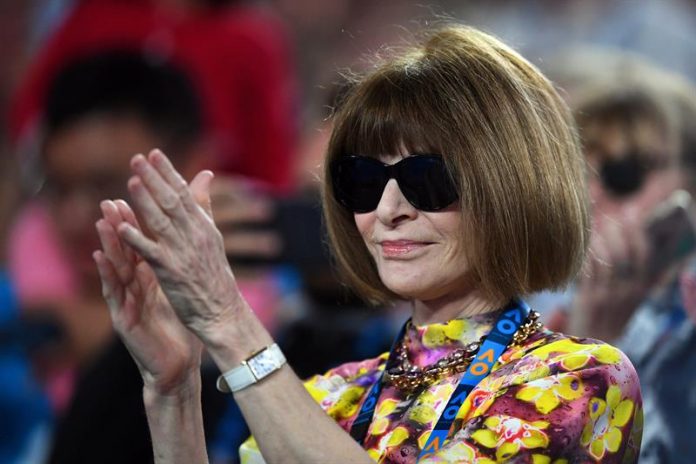 New York, .- Anna Wintour, one of the most prominent figures in the world of fashion, today paid tribute to the German designer Karl Lagerfeld, who died on Tuesday, whom he defines as the "living soul of fashion" and who highlighted his innovative spirit and its closeness.
"He defined what it means to be a 21st century designer, and he did it with humor and joy," he said in a text published today in the magazine Vogue that has been the editor-in-chief of the media for three decades.
Wintour confesses in the piece that the loss of Lagerfeld is "especially painful" since the fashion designer never "fell out of fashion or the world," and because his death "marks the end of an era of artisans who could do everything" .
The British journalist describes him as "restless, forward thinking and extremely attentive to the changes in our culture", and underlines the fact that he was one of the first to move away from the refuge of fashion houses to become an autonomous designer at work for several firms at the same time.
He also points out that no other designer found inspiration in questions as varied as the news of the week, the decorative arts of the eighteenth century or the philosophy of David Hume, who were born of their various interests.
"He was a linguist, a photographer, an interior decorator, a collector, a filmmaker and a philanthropist among many other things," he enumerated.
However, Wintour gives special importance in his tribute to his personal qualities, and defines him as a "good and loyal friend".
"He was witty and charming (…) The hours spent with him sitting at a table made me feel more fortunate than any stroke of luck that I could have as editor," he said in reference to the long dinners they shared, especially during Paris Fashion Week.
The fashion expert revealed that she has dressed her designs in the most important moments of her life, both in her own wedding, and in that of her children's links, or when she was named Lady by Queen Isabel II.
"It was partly because I liked his designs, how well they expressed who I am and who I aspired to be, but also because of Karl, because wearing his exquisite dresses or perfect suits made me feel close to him and safe at crucial moments" he explained.
Wintour confessed, likewise, that what helps him to go through these hard moments is knowing that he will always "find him in his designs now that he is not", and concluded by noting that he will miss Lagerfeld "more as a person" than as a couturier (EFEUSA)