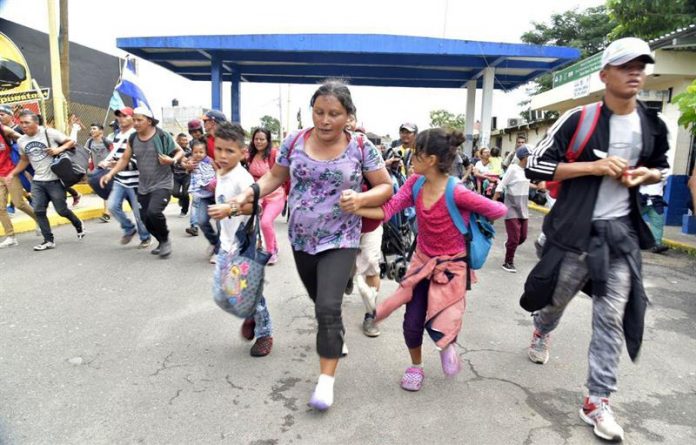 The Mexican Interior Minister, Alfonso Navarrete, denounced today that the thousands of Honduran migrant caravan entered "by force" and "violently" to Mexico, wounding police and breaking the agreement that they would agree to small groups.
Navarrete told Millenium TV, Mexican authorities had reached a pact with migrants to enter Mexico in an "orderly" manner in groups of between 50 and 100 people to be reviewed and allow their entry in a "documented" manner, but the caravan "breached" the agreement.
"They accepted it but a few minutes ago, violently, a group of hundreds of Hondurans tried to enter Mexico by force and have injured Mexican police," Navarrete complained, after the caravan crossed the border fence.
The minister said that the entrance to Mexico was organized by "specific groups" that put pregnant women and children ahead, which he described as "an atrocious act".
"Of course the police will never rape children or pregnant women," he added.
He pointed out that this has meant a "break in the agreement" that they had adopted with the Mexican government that, according to Navarrete, has watched over them and has "faced any threat or pressure from different countries, especially the United States", a country that threatened close its border with Mexico to prevent migrants' access.
Therefore, the secretary asked "please" the migrants to "return to the dialogue we had had" so that the Government can "back the caravan" under its immigration laws.
He asked that they present themselves before the Mexican immigration authorities so that they can take their documentation and prevent migrants from "being subject to irregularities."
The river of migrants entered the country from the Guatemalan city of Tecún Umán, after forcing the border fence that divides both countries.
The fence remained open for about half an hour until it was closed by the Guatemalan authorities, although they accepted the requests of several members of the caravan that remained scattered after the bulk of the migrants passed.