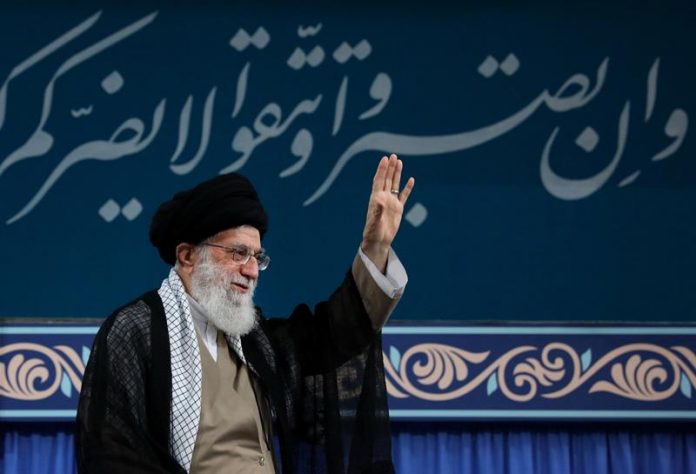 The supreme leader of Iran, Ali Khamenei, said today that "there will be no war or negotiations with the United States," the same day that a new ballistic missile was presented in Tehran that defies Washington's demands.
In response to statements by US President Donald Trump, to re-engage in a dialogue to reach a new agreement, the Ayatollah criticized Washington's "cynicism," since, he added, "besides the sanctions, they talk about war and of negotiations ".
"Allow me to address the population on the matter in a few words: There will be no war, we will not negotiate with the United States, this is the essence of the word that all the Iranian people should know," Khamenei said in a speech.
Iranian President Hasan Rohani also recently ruled out any dialogue with the US, but once used war-like threats against Washington, even warning that a conflict with Iran would be "the mother of all wars."
After retiring last May from the multilateral nuclear pact of 2015 and imposing sanctions against Iran, Trump was last week "open" to a new agreement with Tehran that would include "its ballistic missile program and its support for terrorism."
These demands came after he previously said he was willing to talk to Iran "without preconditions," which sparked rumors of a possible meeting between Iranian and US officials on the sidelines of the UN General Assembly next September.
To demonstrate that its ballistic program is a red and non-negotiable line, the Iranian Ministry of Defense today presented a new version of the "Fateh" ballistic missile (Conquistador), manufactured locally and already proven "successful".
The defense minister, General Amir Hatami, said that this new generation missile is capable of evading radars and achieving its objectives on land and sea with pinpoint accuracy.
"The mass production of the new missile will help Iran take great steps to increase its defensive capabilities," said the general, who warned that the Armed Forces "will never deviate from their plans to develop the missile industry."
He also denounced foreign interference and attempts to limit their ballistic programs: "Iran will never allow foreigners to meddle in their internal affairs," he warned.
Iran's ballistic missile programs, together with its influence in the region, were one of the reasons given by Trump to withdraw his country from the 2015 nuclear agreement, also signed by Russia, China, the United Kingdom, France and Germany.
For their part, the Iranian authorities claim that their missiles are only defensive and dissuasive, and refuse to negotiate on this sensitive issue or pressured by the sanctions.
The first round of US economic sanctions against Iran came into force on August 7, and will be followed by another next November, which will penalize the energy sector, a vital source of income for Iran.
These pressures were also referred to today in his speech Khamenei, but to affirm that they are not determinants in the economic crisis that the country is going through.
The supreme leader blamed the current economic crisis on "internal factors" such as "bad government management" and "negligence", in a clear wake-up call to the government of Rohaní.
In his view, sanctions can "play a role", but -he pointed- "if measures are taken more efficiently, quickly and firmly, they can not have much effect and can be overcome".
The national currency, the rial, has lost more than half of its value against the dollar since last April and the measures adopted by the authorities have so far failed to alleviate the crisis.
Economic problems have recently sparked sporadic popular protests in several cities, which in some cases have led to criticism of the Islamic Republic's own system.
The US has encouraged and supported these demonstrations and, although analysts believe that the objective of this campaign is to achieve regime change in Iran, Washington argues that it only intends to modify the policies of the Islamic Republic.
Marina Villén