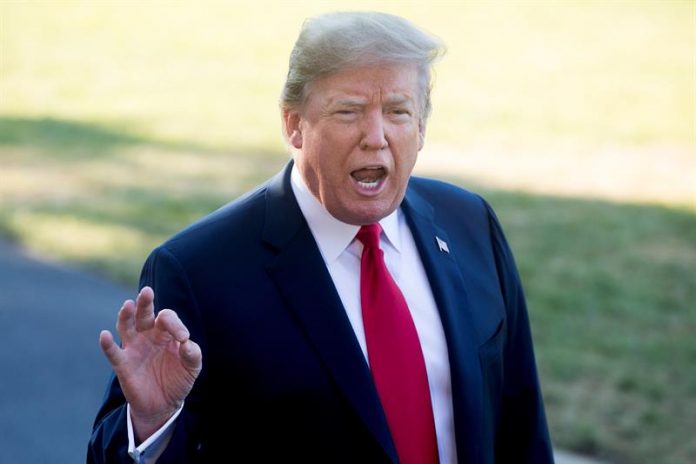 The president, Donald Trump, said today that the solution to the crisis of children separated from their parents on the border with Mexico is "not to come" to the United States. "illegally."
"Well, I have a solution, tell people not to come to our country illegally, that's the solution. (…) Come as other people do, come legally," Trump said when asked about the latest deadline. to reunite children under 5 with their parents before boarding the Air Force Eleven on their way to Brussels.
The Trump Administration began last April its controversial policy of "zero tolerance" against immigration, which led to the separation of about 3,000 minors from their parents -of whom half a thousand were already delivered to their parents-, a measure that was finally suspended in mid-June by the enormous criticism received.
Judge Dana Sabraw of San Diego (California) determined late last month that children under the age of five should return to their parents before Tuesday and established that the rest (5 years and older) should meet with their relatives before of the next day July 26.
"We have laws, we have borders, they do not come to our country illegally, it's not a good thing," continued Trump, who since his arrival in the White House has followed a rhetoric of confrontation with immigration.
In a court hearing with Sabraw on Monday, lawyers from the Department of Justice (DOJ) explained that two of the children have already returned with their parents, while they will do the same today with another group Tuesday, which would allow reaching a figure between 54 and 59 minors.
In this way they would comply in part with the time imposed by the judge to reunify the 102 children with their parents, set for this Tuesday, and explained that in these first cases the process was more agile since the parents continue in the custody of the authorities federal.
Trump will arrive in Brussels tonight to participate the next two days in the summit of NATO leaders, before traveling to the United Kingdom and conclude his European tour on July 16 in Helsinki, where he will meet with the Russian president, Vladimir Putin.