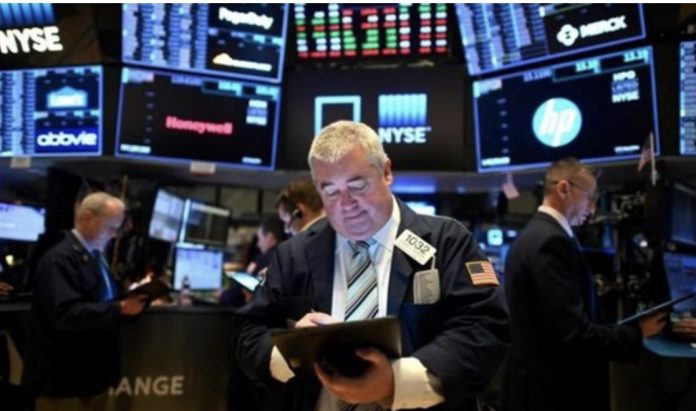 Wall Street recovers from technological results and ends higher The New York stock market ended strongly on Friday, in a market that optimistically awaits the meeting of the Federal Reserve next week.
The Dow Jones thus gained 2.59% to 32,861.80 points, the technological Nasdaq 2.87% to 11,102.45 units, and the expanded S&P 500 index 2.46% to 3,901.06 points.
Friday's trading and the week were both "a tug-of-war" between, "on the one hand, disappointing results from tech giant caps and, on the other, signs of a slowing economy and rising hopes of a Fed restraint" with rate hikes, summed up Angelo Kourkafas, of Edward Jones.
The Fed, the central bank of the United States, will meet Tuesday and Wednesday, after which it will announce what its interest rates will look like.
Alphabet on Tuesday, Meta on Wednesday, and finally Amazon on Thursday all surprised Wall Street unfavorably, "but the market didn't go down much, and even recovered," LBBW's Karl Haeling found.
"The bulk of the decline was confined to the technology sector and did not spread to the rest of the market," he added.
The analyst also highlighted that the financial system saw money enter this week in funds that are positioned in shares, which shows a renewed appetite for this market.
Another important signal, according to Haeling, the S&P 500 crossed an important technical level, surpassing the average of the last 50 sessions and not going down.
For Kourkafas, the week's macroeconomic indicators confirmed that the economy is in a cooling phase, particularly in October.
It therefore seems "reasonable" to think that "the end of the monetary tightening cycle (of the Fed) is near," according to the analyst.
Among the values ​​of the day, Twitter had its listing suspended after the completion of the purchase of the social network by Elon Musk, at 44,000 million dollars or 54.20 dollars per title.
Tesla, another Musk company, gained 1.52% to $228.52.
ExxonMobil (+2.93% to 110.70 dollars), which already achieved an all-time record on Thursday during the day, had a quarterly profit well above expectations. While Chevron (+1.17% to $179.98) fared even better, beating market estimates.