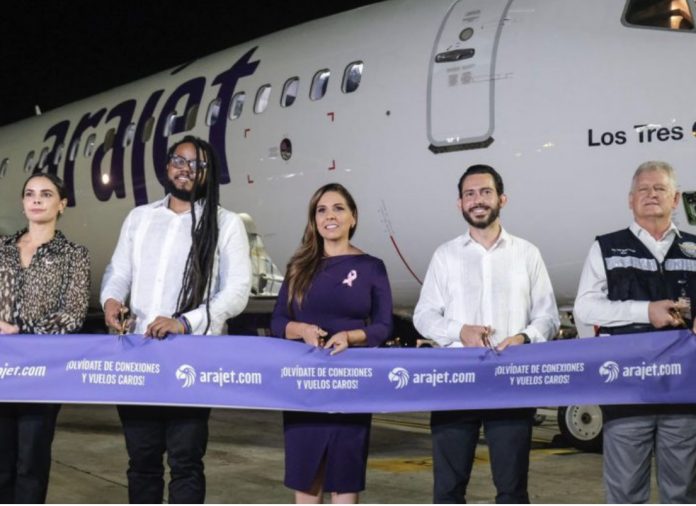 Arajet the Dominican Low Fare airline, officially begins its operations in the city of Cancun with three weekly frequencies to connect the Mexican Caribbean region with the Dominican Republic, strengthen commercial and tourist ties and increase the flow of visitors between both cities.
"Cancún is one of the main destinations for Arajet and represents an opportunity to continue opening the doors of the Caribbean and contribute to the economic dynamism of the region with the continuous exchange of visitors who will be able to complement their travel experience in the area; as well as, easily connecting with more than 20 destinations in 12 countries, through a value offer based on affordable costs, safe and environmentally friendly aircraft, and an on-board experience characterized by the warm treatment of the Dominican people," he commented. Victor Pacheco, CEO and President of Arajet.
With three weekly frequencies (Tuesday and Friday with departure from Santo Domingo at 6:40 p.m. and arrival at 8:30 p.m., and Sunday with departure at 5:20 p.m. and Cancun at 7:15 p.m.), the traveler in the city of Cancun will have the opportunity to have more flight options that will allow you to connect with the Caribbean region and enjoy the vast tourist offer that the Dominican Republic offers, with direct, safe flights and with prices that go with an initial offer from 185 dollars on a round flight, taxes included , the month of October, and from November from 287 dollars, also round flights and taxes included, available at www.arajet.com.
The airline reported that, with this inaugural flight to Cancun, it opens its third route in Mexico, in addition to Mexico City, which has three frequencies from the Felipe Ángeles International Airport (Monday, Thursday and Saturday) and Monterrey with two weekly frequencies available from General Mariano Escobedo International Airport (Tuesday and Friday). It should be noted that, as of September, Arajet also began operations in Colombia, Peru, El Salvador, Aruba, San Martín and Guatemala; and for December, it will expand its offer from two more cities in Colombia: Bogotá and Medellín.