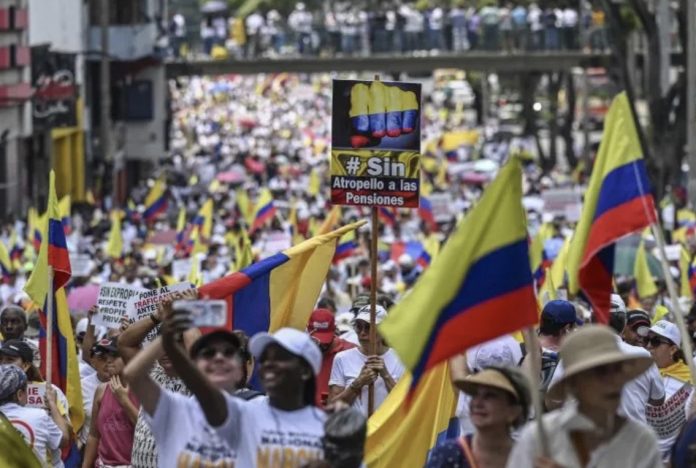 Thousands of people marched Monday in Colombia's main cities against measures such as raising taxes on the rich and land reform proposed by leftist President Gustavo Petro, who took office last month
In Bogotá, the demonstrators mobilized through the streets of the center and concentrated in the Plaza de Bolívar, next to the presidential headquarters, under the slogan "Get out Petro!"
He promised a general policy change (but) surrounded himself with corrupt politicians. That is cheating, Orlando Novoa (60 years old), owner of a construction company with about 30 employees, who was protesting in the capital, told AFP.
Petro became the first leftist president in the history of Colombia by conquering just over half of the electorate with a battery of reforms that seeks to increase taxes on the rich, stop oil exploration and distribute fertile land among "landless" peasants. among other.
To carry out these initiatives, he formed a majority legislative coalition with the support of several traditional parties.
The country needs a manager, Petro is a politician, said Cristóbal Osorio, a 16-year-old student in Bogotá.
In the capital, dozens of young people who mobilized in defense of the president exchanged insults and shoves with their opponents, forcing the intervention of officials from the mayor's office, an AFP photographer confirmed.
With mixed clamor, the protests toured the streets of Cali (southwest), Bucaramanga (northeast), and Medellín (northwest), where a journalistic team from the state channel Telemedellín was attacked by protesters and had to abandon coverage, according to the NGO Fundación para Freedom of the Press (FLIP).
Respect for private property
The arrival of Petro to power encouraged indigenous people and other peasants to forcefully occupy dozens of properties, in what is emerging as one of the first social conflicts of the unprecedented leftist government, which has rejected these invasions.
Hundreds mobilized in Cali dressed in white and raising signs that read "Respect for private property" or "(Petro) incites to commit crimes rather than to produce
The president militated for 12 years in the M-19, a nationalist guerrilla of urban origin that signed the peace in 1990
It is a dishonor to have a president who was a guerrilla. I am outraged, Manuela Hernández (62), owner of a bathing suit company, lamented in Bogotá.
Congress is debating a tax reform project presented by the government that aspires to levy more taxes on the upper classes to finance their social programs against poverty and inequality with new resources.
His predecessor, the right-wing Iván Duque (2018-2022), faced massive protests in 2019, 2020 and 2021, led by young people and vulnerable sectors.
The bloodiest occurred last year, when the then president tried to tax the middle class to deal with the ravages of the pandemic, which sparked violent demonstrations that lasted two months and left 46 dead, including civilians and police, according to the ONU.