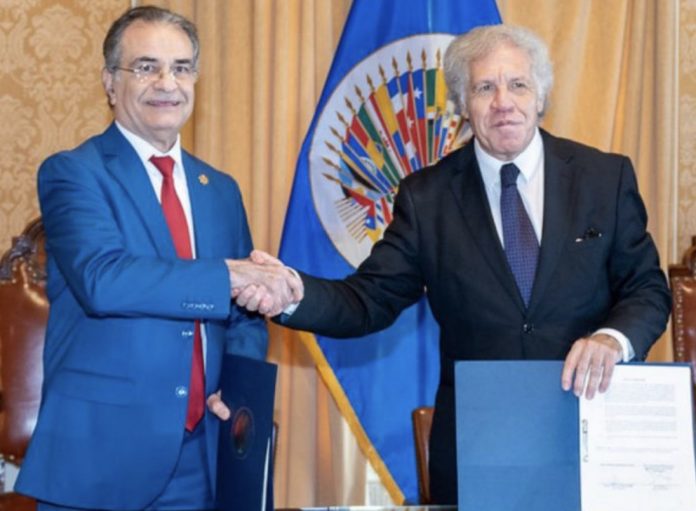 The Presiding Magistrate of the Superior Electoral Court (TSE), Ygnacio Pascual Camacho, signed a cooperation agreement with the General Secretariat of the Organization of American States (OAS), in the person of its Secretary General, Luis Almagro, for the development of a diagnosis on the incorporation of the gender approach in the TSE.
The agreement, entitled "Cooperation Agreement between the Superior Electoral Court and the General Secretariat of the OAS, for the Development of a Diagnosis on the Incorporation of the Gender Approach in the Superior Electoral Court of the Dominican Republic", aims to contribute to the strengthening of the political participation of women in our country.
During his speech, Judge Camacho highlighted that this agreement is "the first tangible fruit of the productive visit to our country by the High-Level Group for the Strengthening of Women's Political Participation," which is chaired by President Laura Chinchilla and sponsored by the Government of Canada.
In addition, he thanked the Department for Electoral Cooperation and Observation (DECO) and the Permanent Mission of the Dominican Republic to the OAS, in the person of Ambassador Josué Fiallo, for the efforts made to sign this important agreement, with which the TSE will carry out a diagnosis through an electoral technical cooperation project.
According to the established schedule, the implementation of this agreement will begin during the last quarter of this year, and will include training workshops
In his words, the Secretary General of the OAS, Luis Almagro, highlighted that "The Dominican Republic was the first country that opened its doors to this initiative, which seeks to encourage and motivate the implementation of recommendations of the Electoral Observation Missions in this matter." .
During the signing ceremony, Ambassador Josué Fiallo, Permanent Representative of the Dominican Republic to the OAS; Alejandra Mora Mora, Executive Secretary of the Inter-American Commission of Women (CIM); Nestor Mendes, Assistant Secretary General of the OAS; Gerardo de Icaza, General Director of DECO; and officials from the Dominican Mission, the DECO and the CIM, among others.