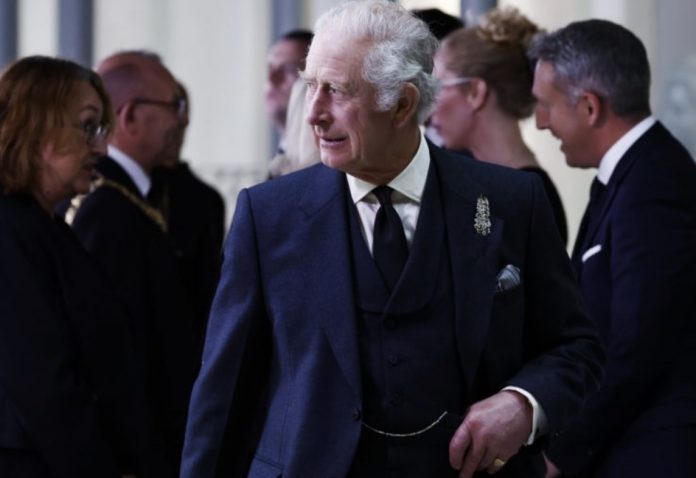 Two anti-monarchist protesters booed King Charles II's convoy on Monday during his visit to the British Parliament while carrying a banner with the slogan "He is not my king", a rare image in this period of mourning for the death of Elizabeth II
The two protesters, each carrying a sheet of paper with the slogans "Not my king", "Abolition of the monarchy" and "Down with feudalism", stood on the sidewalk in front of the Palace of Westminster, seat of the British Parliament
A female protester then approached the gates of Parliament, before being led away by police officers, according to footage released by the Evening Standard newspaper.
"It's a political place and it's a political day," the woman explained to AFP, without wanting to reveal her identity. "Parliament welcomed Carlos Windsor as the new head of state in this country without the people having been able to speak out (…) It is not fair," he defended
"We don't know what he does, but he earns a salary of 24 million pounds a year ($28 million)," she said. "Why? For greeting and shaking hands," he added.
The death of Elizabeth II, a figure of unity and stability during his 70-year reign, aroused immense emotion in the United Kingdom, where hundreds of thousands of people are expected to gather in the coming days before her coffin in London
Some dissenting voices, however, denounced the colonialist heritage of the British monarchy
According to a survey published on the occasion of the queen's Platinum Jubilee by the YouGov institute, 62% of Britons want the country to remain a monarchy, compared to 22% who advocate electing the head of state
Support for the monarchy is weaker among young people and Carlos III is less popular than his mother
Before the arrival of the coffin of Elizabeth II on Sunday in Edinburgh, Scottish police arrested a woman carrying a banner with the slogan "Abolish the monarchy" for public order recordings.