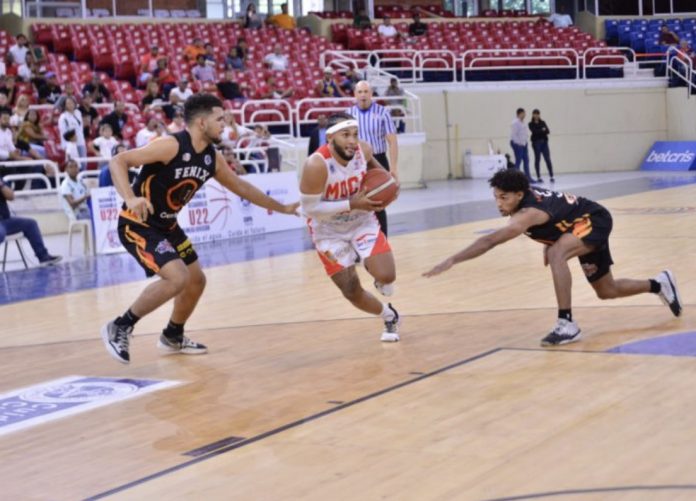 The representations of San Sebastián de Moca and Truenos del Distrito will dispute the title of champion of the second version of the U22 Men's National Basketball Development League, after triumphing in the semifinal series matches.
The meetings were held on a Sunday day of the Final Four, held at the Professor Virgilio Travieso Soto Sports Palace, in the Capital City.
San Sebastián dispatched Fénix de Santiago 96-93, in a well-disputed match from start to finish between both representatives of the Cibao region.
A torrid offense deployed by Kevin Núñez with 27 points and five assists, and Dereckjeter Mejía, who added 25 points and shot 4-5 from the three-point arc, guaranteed victory for the Mocanos who will seek to be crowned this Tuesday, in the game final.
Brayan De la Cruz added a double-double of 14 shots and 12 rebounds, as did Anderson Jiménez with 10 points and 11 sacks, and Rafael De Jesús had 10.
For the losers, Alberson Pimentel led with 25 points and six rebounds, Alexis Marmolejos 18, Andy Molina 16 and six catches, Sammy Rodríguez 13 points and seven assists.
The first half was won by San Sebastián with 10 points, 46-36, with 13 points from Kevin Núñez and 11 goals from Brayan de la Cruz, after a first period 22-16 and a second, 24-20.
For Fénix, Alberson Pimentel scored 16 points and Engel Gutiérrez seven.
District Thunder
The Thunder team of the National District defeated the San Lázaro Colonials this Sunday 00-00, in order to go on to play the NLD U22 championship against San Sebastián.
The offense was led by Miguel Brito with 22 points, five rebounds and four rebounds, Randy Bautista 21, Kelvin Ramírez 16 baskets, Ángel Puello 12 and Robert De Jesús 10.
In the reverse, Diego Colón 18 points, Enmanuel D'Oleo 16 and Ángel Alfonseca 12 points.
Halftime was won by Thunder with 10 points, 55-45, after a first quarter 26-21 and the second 29-24, with Randy Bautista standing out with 17 points and Ángel Puello with 10.
For the Lazareños, Enmanuel D'Oleo 13 points and Ángel Alfonseca 12 points plus six rebounds, and Diego Colón eight.
final game
The final match between San Sebastián and Truenos will be this Tuesday, at 4:00 in the afternoon, at the Palacio de los Deportes, in the tournament dedicated to Fernando Teruel and as an option for the INAPA Cup (National Institute of Drinking Water and Sewage). , sponsored by Wellington Arnaud.