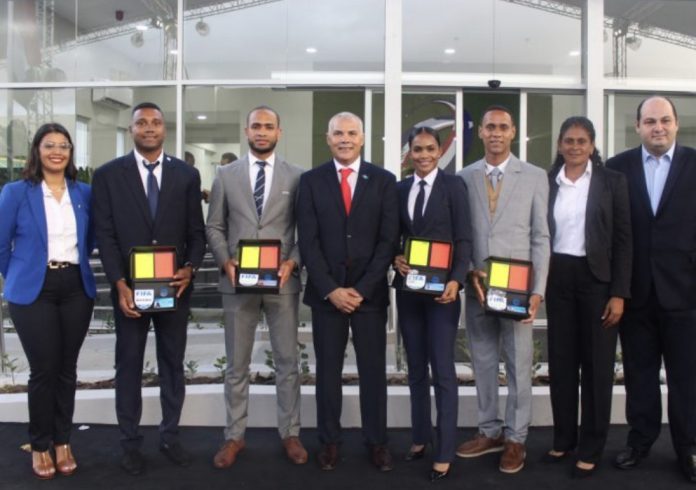 The Arbitration Department of the International Federation of Football Association (FIFA) delivered the badges that identify judges attached to the Dominican Football Federation (Fedofútbol) as international referees, for the 2022-2023 season of the world calendar.
The badges were delivered in a ceremony headed by the president of Fedofútbol, ​​​​Rubén García Ciprián; the secretary general, Arturo Heinsen, the director of development and compliance, Yelena Hazim and the coordinator of the arbitration department, Irazema Aguilera.
In total there are seven Dominican referees who obtained the right to wear the international FIFA badge. One referee and four assistant referees, in field soccer; one in futsal and one in beach soccer.
Juan Ángeles has been in force as an international beach soccer referee for the Dominican Republic since 2012, being the oldest and the one who in his curriculum accumulates the most experience with four FIFA World Cups in his modality.
In field soccer, Randy Encarnación is the only one in the role of referee with this seal and has held it since 2019, while in the role of assistant referee are Walter Cid (2016); Raymundo Féliz (2018), who was recently named among the judges who will be at the FIFA World Cup Qatar 2022, had previously been at the FIFA U-19 World Cup Poland 2019; in addition to the debutants with this badge, José Baré and the female Santa Medina.
Already in the futsal modality, Manuel Rosario will be the only representative of the Dominican arbitration for international FIFA events. The vegan has maintained his status since 2020.