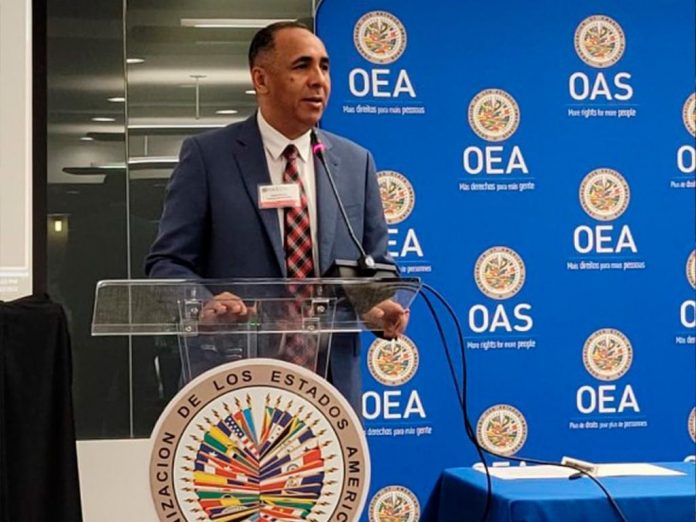 The Dominican Telecommunications Institute (Indotel) and the Inter-American Telecommunications Commission (CITEL) of the Organization of American States (OAS), signed a memorandum of understanding for cooperation in telecommunications, Information and Communication Technologies (ICT ) ) and to support the connectivity axis outlined in the 2030 Digital Agenda in the country.
The document was signed by the Chairman of the Indotel Board of Directors, Nelson Arroyo Perdomo, and the Executive Secretary of CITEL, Óscar León.
The agreement provides for assistance in the implementation of COMCITEL's recommendations contained in decision Dec. 108 (XXXVII-20), which establishes the expansion of telecommunications in rural areas and in neglected or insufficiently served areas to connect the unconnected , with a view to strengthening and implementing the Digital Agenda in the country. of telecommunications to 26 municipalities of the South region and the border zone of
Arroyo detailed the processes carried out by the institution to expand connectivity levels, through initiatives such as "Connecting the Unconnected" and the "Telecommunications Infrastructure Plan", which will allow infrastructure to be carried out in the country.
The head of the telecommunications regulatory body in the Dominican Republic was accompanied at the time of signing by the executive director of Indotel, Julissa Cruz Abreu; Christian Victoria, from the International Relations Department; and by the country's permanent representative to the OAS, Josué Fiallo.
The signing of this document falls within the framework of the 41st Meeting of the Permanent Consultative Committee I of CITEL.
During the work agenda, the executive director, Julissa Cruz, participated as a panelist in the seminar on 5G: "Opportunities and Challenges in the Americas", in which she spoke about the Dominican experience in the implementation of 5G networks and its impact on social and economic development.
The executive director also participated in a meeting with the secretary general of the OAS, Luis Almagro.
In the same way, she presented the progress that the Dominican Republic has had in the implementation of the Regulation for the Integral Management of Electrical Equipment Waste.
and Electronics (RAEE) that work together with the International Telecommunications Union (ITU) and the Ministry of Environment and Natural Resources (MARENA), of the Dominican Republic.