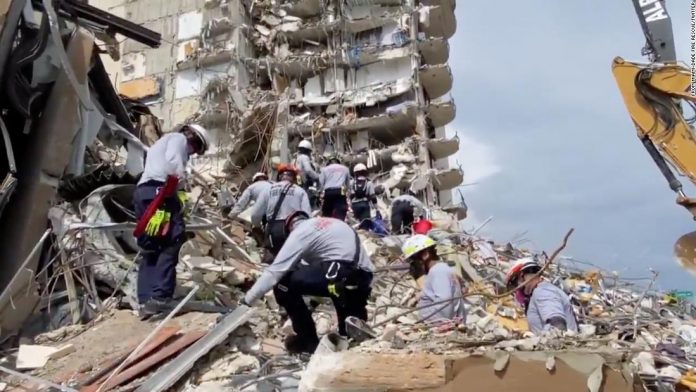 Residents of the north tower of the Champlain Tower residential complex in the US city of Surfside (Miami, Florida) have begun a voluntary evacuation after the collapse of their annex building on Friday, which has so far left at least five dead and 156 missing.
The Federal Agency for Emergency Management (FEMA) will be in charge of providing funds for the relocation of the residents of the north tower, as explained by the mayor of the town, Charles Burkett, to the 'Miami Herald'.
The mayor wanted to emphasize that the evacuation has not been mandatory. "The consensus is that we do not want to force anyone to do anything. We just want to give them options and that they feel safe, and that they continue like this," he added.
However, Florida Governor Ron DeSantis had previously advanced the possibility of forcing a temporary evacuation given that "both buildings are from the same year and are designed the same," although he left the final decision in the hands of the mayor.
A 2018 report revealed structural damage to the pool's concrete floor, as well as signs of cracking in the parking lot of the residential complex.
"Cracking and spalling is observed at various levels in concrete columns, beams and walls, as well as several considerable detachments both in the upper part of the entrance access ramp and in the lower part of the pool floor", according to The document.
"Although part of these damages are minor, it is necessary to repair soon most of the deterioration in the cement", adds the document, collected by 'New York Times' and CNN.
The crack in the pool's concrete was causing "major structural damage" and repair work had been unsuccessful.
The report, by Morabito Consultants, does not offer, however, any indication that the structure would collapse in the short term, while lawyers for the building's condominium association have assured that the structure had undergone a series of inspections during the last months.