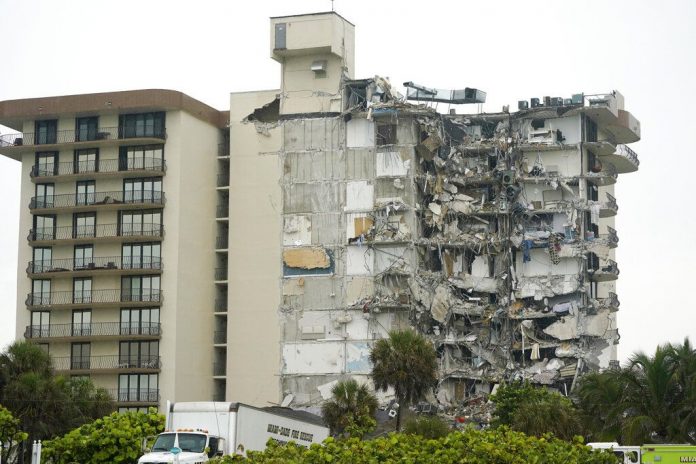 Among the residents was the sister of the Paraguayan first lady and her family
At least one person has died, several have been injured and about a hundred are unaccounted for after the collapse of a 12-story building in the city of Miami, in the state of Florida.
As confirmed to the newspaper 'The Miami Herald' by the spokesman for the emergency services Ray Jadallah, about 55 apartments have collapsed at dawn this Thursday, around 1.30, which has left a large mountain of rubble in the neighborhood of Surfside.
Most of the residents were sleeping when the incident took place. Miami-Dade County Mayor Daniella Levine has lamented what happened and said it was "unimaginable." "A great rescue operation is underway," she said.
Authorities have asked residents and their families to call security forces to confirm or report the missing residents, according to CNN television.
Thus, they have pointed out that perhaps the 51 missing persons were not in the building, called Champlain Towers South, at the time of the collapse since they were perhaps on vacation or elsewhere.
At the moment, some 40 people who were in the area have been evacuated, although operations have had to be temporarily suspended due to a strong storm that passes through the city.
The governor of Florida, Ron DeSantis, has indicated that the authorities hope that more rescues will be carried out soon, but has admitted that they expect "bad news given the destruction" recorded.
In this regard, he thanked the emergency teams during a press conference from Tampa. "The quick response has been important and I think it has saved lives. I want to thank people for their courage in doing that," he said.
THE RESCUE COULD LAST FOR WEEKS
However, authorities in the Surfside neighborhood fear that rescue efforts will drag on for a week. Jadallah has specified that he has already moved to the heavy equipment area to carry out the work.
So far, Jadallah said, at least 35 people have been rescued alive from the rubble, including a child. The electrical storm that has fallen in the last few hours has caused an interruption in work, in which the Red Cross and a special team of search dogs are also participating.
The commissioner of Surfside, Eliana Salzhauer, has assured that "it could take weeks until we really know who is under the rubble, who survived, and who did not."
The Paraguayan Foreign Ministry has reported that at least six Paraguayans were in the building when the collapse occurred, including Sophia López Moreira, sister of the first lady, Silvana de López Moreira.
Thus, it has indicated in a statement that the collapse is being "permanently monitored" and has indicated that Moreira's sister and her family were in the place, including three minors, according to information from the newspaper 'ABC Color' .