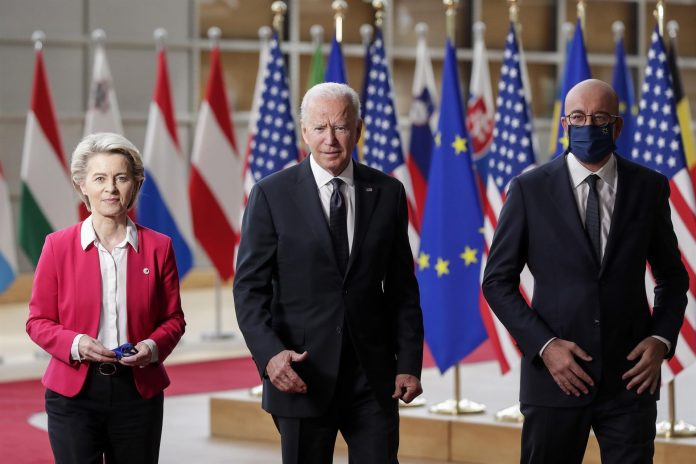 The president of the European Council, Charles Michel, and the president of the European Commission, Ursula von der Leyen, have claimed this Tuesday before the US president, Joe Biden, that Washington "returns" to global leadership after the turbulence experienced during the Donald era Trump.
Before the meeting between the European Union and the United States on Tuesday, the first summit of this level in seven years, community leaders offered a warm welcome to Biden, thanking him for his renewed commitment to Europe.
"You are back in Brussels and America is back on the global scene. This is good news for its partners and for the world," Michel said in the formal greeting with Biden and Von der Leyen.
While they posed for the photographers, the leader of the Community Executive stressed that Biden's trip to Europe occurs in the first months of his mandate, which "underlines the link with Europe" of the new US president.
In the same way, Von der Leyen has pointed out that Europe and the United States are "friends and allies", despite the "difficult" of the last four years, in a veiled reference to Trump that shows that on the European side the change of tone in his contacts with Washington. "The world has changed but I want to reaffirm that we are friends and allies and that we are going to work together," she stressed.
For his part, Biden has called the cooperation framework between Washington and Brussels a "great opportunity" and explained that it is in the interest of the United States to have partners on the international board, such as NATO and the EU. "I have a very different vision from my predecessor," she added.
"America is back, but we have never been completely gone," remarked Biden, who, when asked if the end of the trade conflict between Airbus and Boeing could be agreed upon, gestured to journalists by crossing his fingers.
The trade tension, which led to a tariff battle, is one of the big differences between the EU and the United States. The commitment to put an end to this conflict will be reflected in the joint statement that will be released this Tuesday and that will include the "several years" roadmap to resolve the differences, as confirmed by community sources to Europa Press.
Despite the climate of harmony that the European leaders have staged with the North American, there will be no joint press conference of the three leaders at the end of the meeting, as is usual at summits at the highest level with EU partners. As a sample, Canadian Prime Minister Justin Trudeau offered one with Michel and Von der Leyen this Tuesday after the summit between the EU and Canada.