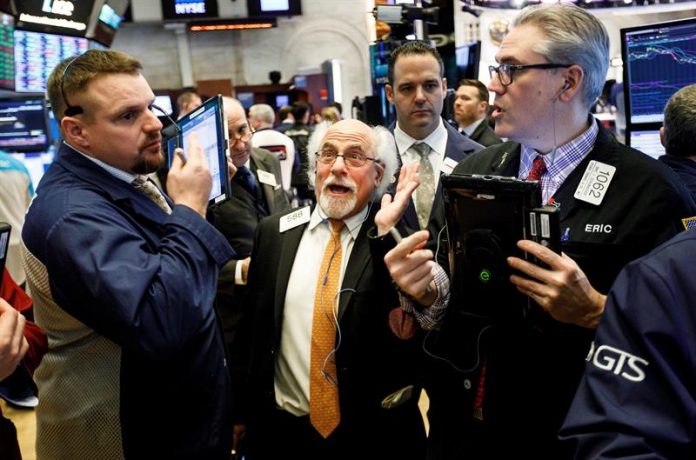 New York, .- Wall Street opened this Friday in green and the Industrial Dow Jones, its main indicator, rose 0.38% amid a renewed optimism for trade negotiations between the US and China.
Half an hour after the start of operations, the Dow Jones added 99.33 points, to 25,949.96 integers, and the selective S & P 500 advanced 0.35% or 9.77 units, to 2,784.65.
The composite index of the Nasdaq market, where the main technological groups are trading, advanced by 0.45% or 33.61 points, to 7,493.32.
Most economic sectors operated with profits, led by energy (0.79%), technology (0.83%) and basic materials (0.41%), while the most notable losses were registered in that of essential goods (-0.68%).
Wall Street was betting on purchases this morning, forgetting the disappointing economic data of the previous day that resurfaced the fear of a possible slowdown in economic growth and led the three indicators of the parquet to close at a loss.
Again, the talks between Washington and Beijing on commercial matters were a reason for encouragement among investors, awaiting details of a meeting between US President Donald Trump and Chinese Vice President Liu He.
Both have a scheduled meeting this Friday, in the middle of this new round, whose objective is to reach a pact to avoid the application of additional tariffs by the US to Chinese products at the beginning of March.
Among the 30 listed companies of the Dow Jones stood out the advance of Intel, 2.2%, in reaction to a positive review of its titles by the financial Morgan Stanley, who applauded the "financial" profile of its CEO, Bob Swan, after a tendency to appoint managers more focused on technology.
More moderate increases were Pfizer (1.26%), Microsoft (1%), Visa (0.89%), Boeing (0.77%) or Verizon (0.77%).
Less than a dozen firms were in negative territory, and the biggest setback was for Walgreens (-0.70%) and McDonald's (-0.15%).
In other markets, Texas oil rose to $ 57.45 a barrel, gold retreated to $ 1,331.20 an ounce, yield on the 10-year Treasury bond fell to 2.657% and the dollar gained ground to the dollar. euro, with a change of 1,133. (EFEUSA)