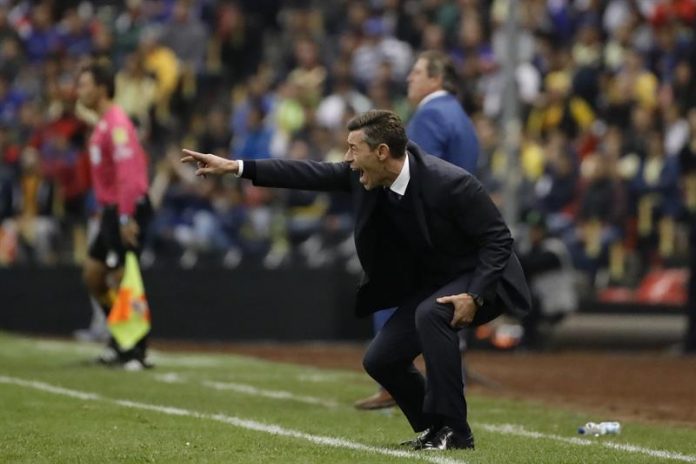 The Portuguese Pedro Caixinha, Cruz Azul coach of Mexico, predicted on Friday that Uruguayan striker Martin Cauteruccio will break his championship drought and will score his first Clausura goal tomorrow with the León.
"I'm going to risk saying tomorrow 'Caute' is going to score," Caixinha said at a conference in La Noria camp, south of the Mexico City before committing to the fifth day of the league tournament.
The four previous matches Cauteruccio has been a starter, however the one in charge of scoring for Cruz Azul in all has been the Mexican midfielder Elías Hernández.
Caixinha emphasized that the sporting life of the strikers is "moments".
The Portuguese helmsman recalled the opportunities of Cauteruccio in the league to crash a ball to the crossbar against Tigres and a hand in hand with the goalkeeper of Xolos de Tijuana, the Mexican Gibran Lajud.
Leon with five points, two less than Cruz Azul, is a rival that according to Caixinha has shown regularity this season.
"I do not think that Leon comes from less to more, they started the tournament well, it's a customs office that I like with a stadium in a soccer city," he added.
The Portuguese prepared the game against Leon with defensive modifications for the injury of Paraguayan defender Pablo Aguilar earlier this week.
In addition to predicting the goal of Cauteruccio, Caixinha said, "wait for a Blue Cross that will want to go out and win."
The former coach of Santos de Mexico was serene Friday after the discussion with a reporter who, in an outburst told him last Saturday that he did not care about the opinion of the media.
"I am here to defend this institution, in one year it was the first time I passed, I must have control, but if there is something I can not tolerate, it is the 'bad milk' and that lack of ethics in relation to those principles that each one defends. "he concluded.
The Blues concluded today their preparation to face tomorrow the Lion in a duel in which Caixinha must make adjustments to alleviate the loss of several of his players. (EFE).