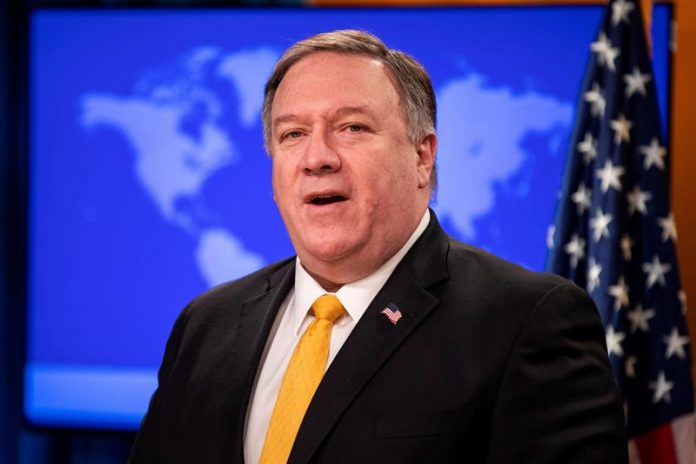 The United States will suspend its participation in the INF treaty with Russia this Saturday, which initiates a process to withdraw from the first disarmament agreement sealed during the Cold War by Washington and Moscow and aimed at eliminating all short and medium range nuclear and conventional missiles. .
"The United States will suspend its obligations under the INF treaty on February 2" due to Russia's alleged violations of the treaty, Secretary of State Mike Pompeo told a news conference in Washington.
The announcement begins a process of six months, or 180 days, after which the US will definitely withdraw from the treaty, something that, as the European Union (EU) has warned, could start a new arms race between the two great nuclear powers of the world.
The president, Donald Trump, left the door open to keep his country in the treaty if "Russia returns to comply" with what was agreed in the agreement "by destroying all the missiles, shuttles and associated equipment that violate" the subscribed in the text of 1987.
"For too long, Russia has violated with impunity the Intermediate Range Nuclear Forces Treaty (INF), developing and covertly deploying a forbidden missile system that poses a direct threat to our allies and troops abroad," Trump said. it's a statement.
The president said that the allies in NATO "fully support" his decision, "because they understand the threat posed by the violation of Russia and the risks involved in arms control ignore violations of the treaty."
"We can not be the only country in the world tied unilaterally to this treaty, nor to any other," said Trump, who has withdrawn his country from several international agreements since coming to power in 2017.
"We will develop our own military response options and work with NATO and our allies and partners to deny Russia any military advantage derived from its illegal conduct," the president warned.
Washington and Moscow accuse each other of violating the treaty, which prohibits the two signatory countries from manufacturing, deploying or testing short-range (500-1,000 kilometers) and medium-range (1,000-5,500 kilometers) missiles.
Since Trump threatened in October to suspend the pact, the United States has held several negotiations with Russia to try to reach an agreement, but the last round ended unsuccessfully on Thursday in Beijing.
Russian Deputy Foreign Minister Sergey Riabkov warned today that the suspension of the treaty "means, de facto, that Washington is released from any kind of restriction" and that, "in the worst case scenario, they can now appear on the ground 24 Tomohawk cruise missiles with nuclear charges. "(EFEUSA) .-