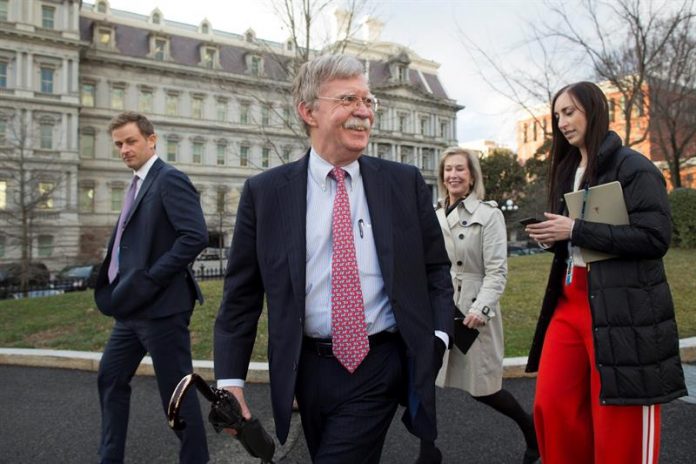 John Bolton, President Donald Trump's national security adviser, warned Venezuelan President Nicolás Maduro today that he could end up in "Guantánamo" (Cuba), where the country has a military prison for suspected terrorists, if he does not leave soon. the power.
"Yesterday I tweeted that I wish you a long and peaceful retreat on a beautiful beach away from Venezuela, and the sooner you take advantage of that opportunity, the more likely it is that you can have a nice and quiet retreat on a nice beach instead of being in another beach area like the one in Guantanamo, "Bolton said in a radio interview.
Asked by Efe, a Bolton spokesman declined to comment further on the assertion of Trump's adviser, a well-known defender of the US military prison. has in the Guantanamo naval base and worked for the president who opened that detention camp, George W. Bush (2001-2009).
Bolton's warning came in response to a question posed by conservative radio broadcaster Hugh Hewitt, who inquired whether Maduro faces a possible "bad ending" like that of Italian dictator Benito Mussolini or Romanian Nicolae Ceausescu, who died executed.
Bolton advised this Thursday Maduro and his top advisers to "take advantage of the amnesty" that has been proposed to offer Chavez politicians the head of the Venezuelan Parliament, Juan Guaidó, who proclaimed himself as interim president of Venezuela and has been recognized by the United States. . and other countries.
Trump's adviser wished in his tweet to Maduro "a long and quiet retirement, living on a beautiful beach somewhere far from Venezuela", and the White House later assured that it was "open to having conversations" about "where could land" the Venezuelan president if he decides to leave power.
"I'm not sure if anyone in Venezuela can guarantee Maduro's safety" in case he stays in the country after leaving power, said a senior official, who requested anonymity, at a press conference on Thursday.
"Maduro feels the need for his security team to be made up of people who are not Venezuelan, who are Cubans and Russians, so I do not think Maduro feels safe among Venezuelans, and he would probably prefer another place," he added.
Bolton's warning about Guantanamo comes four days after Trump's adviser generated a stir by appearing before the press last Monday holding a notebook in which the phrase "5,000 troops to Colombia" could be read.
Bolton did not want to give details today about what that reference meant, that a former official of the National Security Council of the White House, Fernando Cutz, interprets as a possible "psychological operation" to put pressure on the Venezuelan military and cause them to break with Maduro, according to He said in statements to Efe.
Trump's adviser did confirm in his radio interview, however, that the United States "is not" planning any imminent military intervention in Venezuela, either unilaterally or with the help of Colombia or Brazil. (EFEUSA) .-