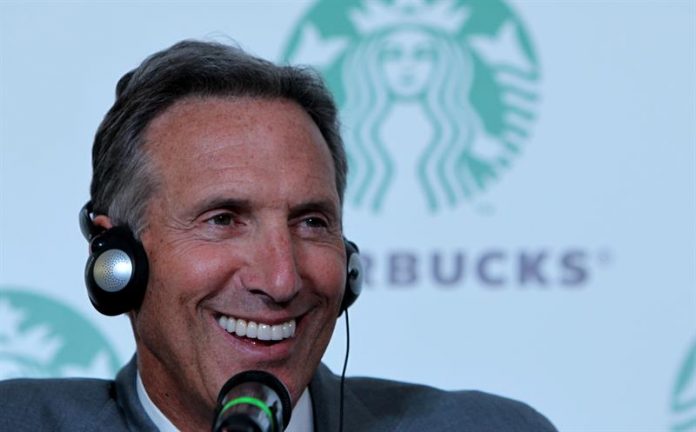 Howard Schultz, the former president of Starbucks, announced today that he is thinking "seriously" about running for the US presidential election in 2020. as an independent candidate, a possibility that worries the Democrats because they believe it would help President Donald Trump to be re-elected.
"I'm seriously thinking about running for president, I will compete as a centrist independent, outside the two-party system," Schultz said in an interview with CBS.
Schultz, who until now had been described as a democrat, justified his decision to opt for a third way because, he said, the country lives "fragile times."
"Not only is the fact that this president (Trump) is not qualified to be president, but the fact that the two parties never do what is necessary for the American people and are engaged, every day, in policies based on the revenge, "said Schultz.
The 65-year-old billionaire, who left the coffee giant last year after a decade at the helm, also told The New York Times that he had already begun the paperwork required to be on the ballot in 2020, and that he planned to cover the country for the next three months before making a formal announcement.
Numerous Democratic strategists criticized Schultz and begged him not to run as an independent, since they believe that would divide the Progressive vote between the Democratic candidate and him, and help Trump to achieve reelection.
Asked about it in the Times, Schultz replied that he is not planning to present himself "to annoy" the Democrats, and that he believes he can really conquer the US Presidency.
"I am prepared for the cynics and critics to come and say that this can not be done, I do not agree with them, I think it is anti-American to say that it can not be done," he said.
Schultz added that he has decided not to compete as a Democrat because in that case he would have to "say things that he does not believe in," because the party has turned too far to the left. "
"When I hear people talk about free university, paid for by the Government, free health care paid by the Government and a free job in the government for everyone, added to a debt of 21 billion dollars, the question is how do we pay for all that without taking the country to bankruptcy? "Schultz asked.
"It's a promise as false as the wall" that Trump wants to build on the border with Mexico, the former executive added.
Schultz, who made Starbucks a global brand during his first tenure of the firm (1986-2000), which began when the company barely controlled seven coffee shops in Seattle (USA), could have some appeal for some Americans similar to Trump, another billionaire tycoon with no political experience.
Progressives' criticism of Schultz's possible candidacy is based in part on the background of billionaire Ross Perot, who ran as an independent in the 1992 election, garnered nearly 19% of the vote and some believe it helped lift the vote. power the Democratic candidate, Bill Clinton. (EFE) .-