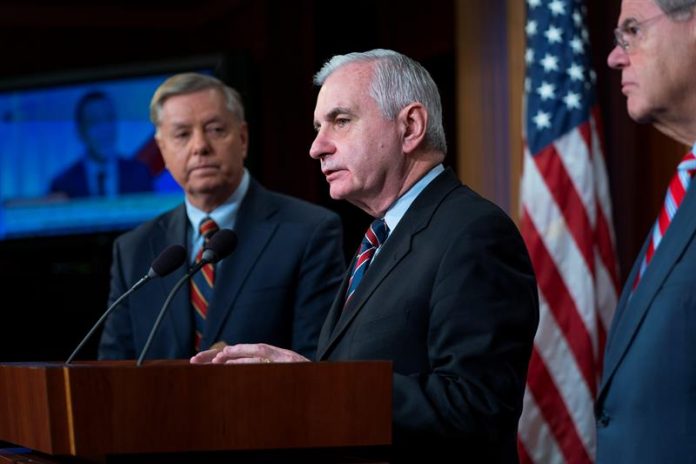 US President Donald Trump said today that the Kremlin and Iran, among others, are not "happy" with their decision to withdraw troops from Syria, although his Russian counterpart, Vladimir Putin, today greeted the departure of that territory .
"Russia, Iran, Syria and many more are not happy because the US is leaving, despite what the False News says, because now they have to fight against the (Islamic State terrorist group) EI and others, whom they hate, without We are building by far the most powerful army in the world, if the IS attacks us, they are condemned! ", said the president on Twitter.
In this regard, he also asked if the US wants to be the "police agent" of the Middle East and pointed out that it is time for others to begin to "fight".
"Does the US want to be the police agent of the Middle East, receiving NOTHING but spending valuable lives and billions of dollars protecting others who, in most cases, do not appreciate what we do? Do we always want to be there? others to fight finally … ", emphasized the president.

Today, Putin expressed his support for the decision announced yesterday by Trump and emphasized that the presence of the US is not necessary in Syria.
"If the US has decided to withdraw its troops from Syria, then it is the right step. Is the presence of US troops necessary? No, I do not think so," Putin said during his massive annual press conference.
Washington announced yesterday the start of the withdrawal of its troops from Syria, where there are about 2,000 military deployed, after the president proclaimed the defeat of the IS in this territory.
Despite the announcement of its withdrawal from Syria, the US still maintains its military presence in Iraq, bordering Syrian territory.
During the campaign for the 2016 elections, Trump pleaded to diminish the US military presence in the Middle East, but when he arrived at the White House, senior Pentagon officials convinced him to keep troops in Syria in order to end the EI .
Trump has repeated on several occasions that his priority in Syria was to eradicate the IS and has abandoned the idea of ​​forcing a transition that forces the departure of the Syrian president, Bashar al-Assad.
(EFEUSA) .-