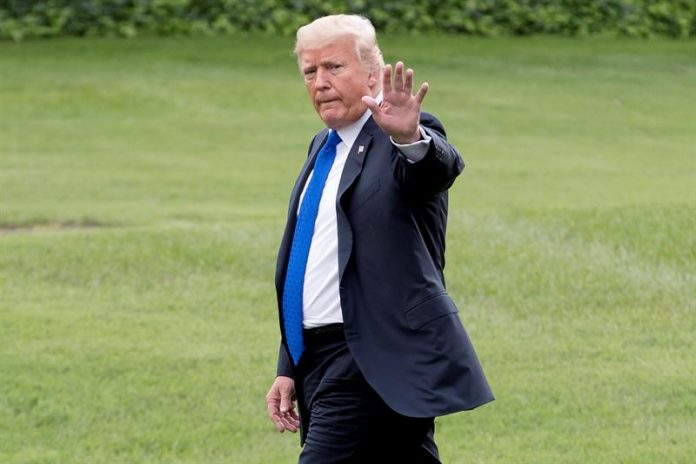 President Donald Trump and his predecessor in the White House, Barack Obama, will participate this week in elections in Florida, a state where the outcome of the November 6 election is not decided, although Democrats have a slight lead in key positions .
Trump will be on Wednesday in Fort Myers (southwest Florida) and next Saturday in Pensacola (northwest), while Obama is expected this Friday in Miami, according to information from the campaigns of Republican and Democratic candidates.
Democratic Senator Bernie Sanders will also visit Florida this week and with the same purposes as Trump and Obama. On Wednesday he will appear at rallies in Orlando and Tampa to request a vote for the Democratic Party.
In the absence of a week for the polls, a poll published today sheds light on how the race for governorship and for a position in the federal Senate, the two most important positions that are at stake on November 6 in this state.
According to the survey conducted by the University of Northern Florida (UNF), which has a margin of error of plus / minus 3 points, 49% of likely voters are inclined to Democrat Andrew Gillum for the post of governor, 43% by Republican Ron DeSantis and 7% has not yet decided who.
Discounting the margin of error, it would be three points of advantage for Gillum, mayor of Tallahassee, the Florida capital, and first African-American to compete for the governorship in this state.
Gillum has the support of Obama and Sanders, while DeSantis, a lawyer who fought in Iraq and is presented in electoral propaganda as a "conservative warrior", with Trump.
The same survey, conducted by telephone from October 23 to October 26 to 1,176 likely voters, shows that the two candidates for the position of Florida senator, the Democrat Bill Nelson, who aspires to be re-elected, and the Republican Rick Scott, current governor of Florida, are still in a technical draw.
47% of voting intentions are for Nelson and 46% for Scott, with the same margin of error of plus / minus three points.
Also in this case there is a 7% undecided.
The survey also shows that 45% of likely voters approve of Trump's management as president, 51% disapprove and 4% do not know.
"Nearly three million people have already voted (in Florida) and Gillum is clearly leading the race for governor.The senatorial race between Nelson and Scott is matched and the few remaining undecided voters are going to play a pivotal role in the outcome. "says Michael Binder, director of the UNF Public Opinion Research Laboratory.