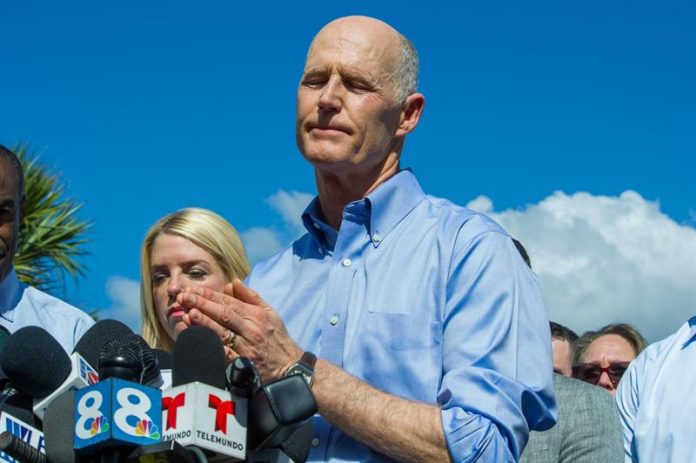 The former mayor of Tallahassee (capital of Florida) Andrew Gillum today urged the governor of Florida, Rick Scott, to "suspend" a controversial state law of self-defense that allows the use of firearms after the death of a man due to a dispute for a parking lot.
In Florida "there is chaos and confusion over the 'Stand Your Ground' law, which can result in the death of innocent people," Gillum said of the rule that allows the use of lethal force to people who consider their lives in danger.
The Florida Gov ernment challenger urged Scott to "declare the emergency" through executive action in the state for the use of that law, which dates back to 2005 and was enforced in 2017.
The request joins the protests this Sunday in St. Petersburg, on the west coast of Florida, in favor of repealing the law, and calls for authorities to investigate and file criminal charges against Michael Drejka, who on March 19 July killed Markeis McGlockton in a parking lot.
This law is being used by people "to become a judge, jury and executioner," criticized Gillium.
In the presence of his girlfriend and mother of three children, McGlockton, 28, was shot by Drejka, 47, who took refuge in the controversial law.
Seeing Drejka arguing with his girlfriend, who had parked at a disabled site, McGlockton came over and pushed him and he immediately shot him in the chest from the floor.
McGlockton managed to walk wounded in the presence of one of his children and enter the grocery store, after which he was taken to a hospital where he died minutes later.
"Stand Your Ground" has no place in a "civilized society," said Gillium, who said there is confusion in the Pinellas County sheriff's office about the matter.
The county sheriff's deputy, Bob Gualtieri, did not arrest Drejka on the grounds that he could be covered by the "Stand Your Ground" law.
Last Friday a group of congressmen applied to the US Department of Justice. investigate the death of McGlockton, occurred in Clearwater (Florida).
For his part, the father of the victim, Michael McGlockton, said that "it was not a call for a murder, my son did not deserve to die like that, period."