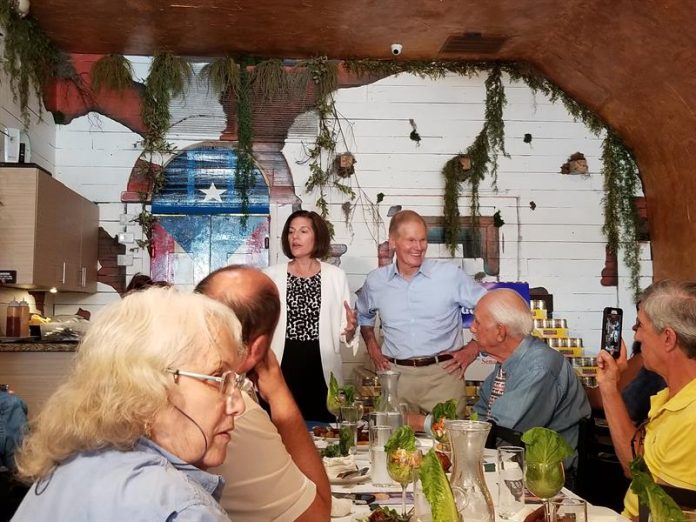 Senator Catherine Cortez-Masto, the first Latina in the US House of Representatives, joined her Democratic colleague Bill Nelson in Miami for her re-election in Florida with a campaign to reach out to the Hispanic community.
From door to door, the senators toured an area of ​​the neighborhood of Little Havana, with a large Cuban population, as part of the "Neighbors of Nelson" initiative.
"There is a very clear difference in this race, and Bill continues his fight for the affordable health care system and protect those with pre-existing conditions, and he also continues to fight for the beautiful environment of Florida that attracts millions of people each year, "said the senator.
The governor of Florida, the Republican Rick Scott, who seeks to snatch Nelson's seat in the federal Senate in the elections next November, has emphasized in recent months in a campaign focused on Hispanics, criticizing especially the "dictatorships" in Cuba and Venezuela.
Nelson today questioned the violence against Nicaraguan students, who opposed the government of Daniel Ortega.
"The violence perpetrated by the Ortega regime is reprehensible and should not be tolerated, it is disturbingly similar to that of (Nicolás) Maduro and (Raúl) Castro," Nelson lamented.
"The American people are on the side of the Nicaraguan people, they deserve to be heard," Nelson said in his Twitter account.
During their tour, Nelson and Cortez Masto were accompanied by volunteers and supporters of the campaign, focused on speaking directly with Latino voters about health, employment and education.
"We need Bill in the Senate to continue fighting together for the people of Florida and our brothers in Puerto Rico, who still need our help to recover after the passage of Hurricane Maria," he said.
"Catherine and I believe in opportunities for everyone equally, no matter where they come from or what zip code they live in," Nelson said.
"We are learning hard that elections have consequences and that is why this election is crucial," Nelson said.
He said that in recent weeks has seen how the health system and protections "for which we fight so much for people with pre-existing conditions are being attacked" by the current government of Republican President Donald Trump.
He said that reminds "how important it is to talk with our communities about what is at stake this election year."
In addition to a seat in the Senate, Florida will renew on November 6 its 27 seats in the federal House of Representatives.