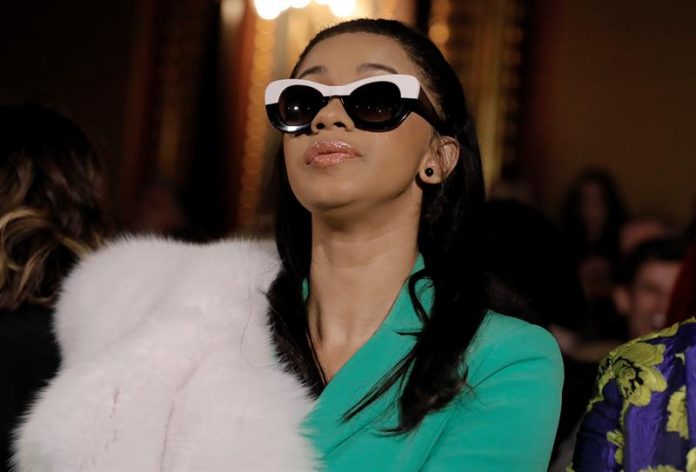 The American singer of Dominican origin Cardi B became this week the first rapper to place two songs at the top of the Hot 100, to promote his song "I Like It" to the top of this classification, the magazine reported Billboard
In addition, the theme of Cardi B, in collaboration with the Puerto Rican Bad Bunny and the Colombian J Balvin, allowed both singers to reach number one on the Hot 100 Billboard list for the first time.
Thus, "I Like It", relegated to the second position the song "Sad!", By American rapper XXXTentacion, who died last June 18 in Florida.
Belcalis Almanzar, real name of Cardi B, reached for the first time number one of the list of musical popularity in the USA. last October with his song "Bodak Yellow (Money Moves)".
This achievement made her the first solo rapper to top the list after Lauryn Hill did it for two weeks in 1998 with "Doo Wop (That Thing)".
On that occasion, Cardi B also emerged as the first woman of Dominican origin to reach the top of the Billboard list, which measures the popularity of all US musical genres.
The singer repeats nine months later with "I Like It", a song that also belongs to her debut album, "Invasion of Privacy".
"I am very grateful, we achieved number one in the most important chart of the United States, not only of Latinos, it is historic," J Balvin said in his Instagram account after hearing the news.
The podium of the list is completed by the young rapper Juice Wrld, with his song "Lucid Dreams", while he continues in fourth position the subject of Maroon 5 "Girls Like You", together with Cardi B, who stamps his name again in the classification.
For its part, "Nice for What", rapper Drake, loses three positions and is relegated to the sixth position, while his other hit "God's Plan", which remained for eleven weeks at the top of the list, retains Now the ninth position.