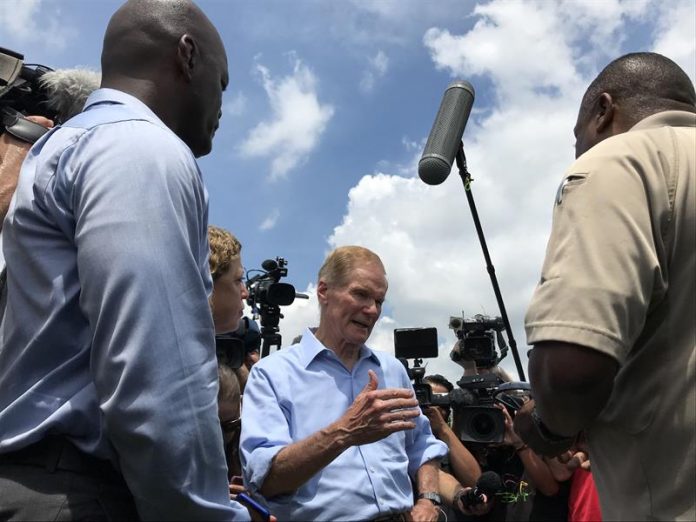 A group of Democratic congressmen met today with displaced families in central Florida after the passage of Hurricane Maria on the island, and to whom the temporary housing aid managed by the Emergency Management Agency (FEMA) was extended.
The group of legislators, made up of Senator Bill Nelson and congressmen Nydia Velázquez and Darren Soto, hailed the judicial decision that orders FEMA to continue paying until July 23 the stays in hotels and motels in the United States and Puerto Rico to affected families for Hurricane Maria.
After a meeting with some Puerto Rican families at the Hope Community Center in the city of Kissimmee, Senator Nelson stressed that if today's order issued by Judge Timothy Hillman did not mediate some 2,000 people would "be thrown into the streets."
"It is not because they are not finding work, it is because they live from one check to the other in order to solve their needs," explained Nelson, who recalled that for the rental of a home a deposit of three or four months of rent is required "and they they have not been able to save for that. "
In what is his second visit to this town, neighboring Orlando, to meet with displaced Puerto Ricans after the passage last September of Hurricane Maria, Nelson said that if President Donald Trump and Congress wanted the situation of "our fellow citizens Americans "would be solved" in a minute. "
"As they did with (the 2005 hurricane) Katrina, those laws already exist and you just have to activate them," said the Democrat and candidate for re-election, referring to the Disaster Housing Assistance Program of the Department of Education. Housing and Urban Development (HUD, in English), and that would allow the victims subsidies until February 2019.
According to civil rights organization Latino Justice, which sued FEMA in federal court in Massachusetts, the judge's order will allow at least 1,744 people to remain in the rooms that have become their home in recent months, although they will have to leave on July 24.
The congressman for Florida Darren Soto, in whose electoral district have settled thousands of Puerto Ricans displaced by the hurricanes and the crisis that crosses the island, told Efe that in the case of migrants due to the natural disaster the problem is the need of affordable housing.
"Our office has worked with about 200 cases, people who have come to seek guidance, help, and the cases we have now, about 23 families, are single parents, elderly, many children with disabilities," he explained.
He recalled how expensive rents are in central Florida, more than in Puerto Rico, and that many pay 50% of their salary in homes, in which several members of the family live.
Among those who reside in temporary housing thanks to the vouchers of the temporary housing program for disaster survivors (TSA, for its acronym in English), figure Olga Evelin Hernández.
"I'm sick and I appreciate the extension of the help, but I'm still worried about what's going to happen, but with God everything will be fine," Hernandez told Efe for six months a resident at the Ramada Inn, a motel located in Highway 192 and in which dozens of low-income Puerto Rican families live.
"While there has been a neglect on the part of the federal government, we have fought and we have managed to put money" that had been taken from them, said Nydia Velázquez, representative for the state of New York, about the battles for more aid to the victims, They include families, sick and retired elderly, and disabled children.