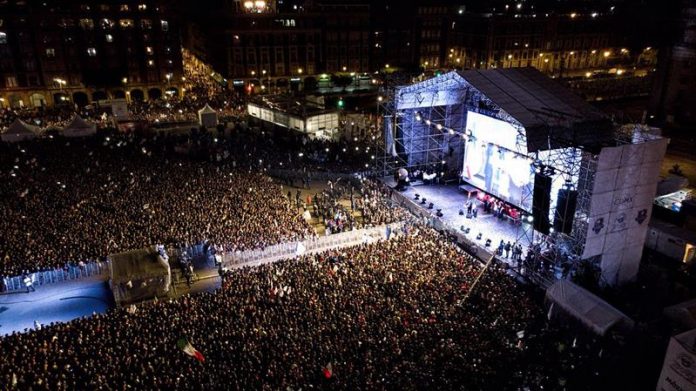 The virtual elect president of Mexico, Andrés Manuel López Obrador, today surpassed the 24 million votes with an advance of 93.56% of the Program of Preliminary Electoral Results (Prep) of the elections held on Sunday.
López Obrador, of the National Regeneration Movement (Morena), accumulates 24,127,451 votes, 52.96% of the vote that has been settled in the 145,021 of the 156,840 (93.56%) polling stations, according to the Prep 21.00 local time (02.00 GMT).
With an electoral participation of 63.44%, López Obrador surpasses in voting the conservative Ricardo Anaya, who has 22.49%; the official José Antonio Meade, with 16.40%, and the independent Jaime Rodríguez, with 5.13%.
Anaya accumulates just over 10.2 million votes; Meade has 7.4 million and Rodriguez adds about 2.3 million votes, according to the Prep.
The total number of votes calculated and the percentage correspond to the votes in the minutes captured at the moment, said the National Electoral Institute (INE).
In total, the INE reports that just over 45 million votes of the total that were issued during the election day have been counted.
At the national level, Morena, in coalition with the Labor and Social Partnership parties, is emerging as the winner in five of the new elections for governor in the same number of states: Mexico City, in Chiapas, Morelos, Tabasco and Yucatan.
The Citizen Movement leads in the state of Jalisco, the National Action Party (PAN) in Yucatan and Guanajuato, and in alliance with the Party of the Democratic Revolution (PRD) in the elections for governor in Puebla.
Meade, Anaya and Rodriguez admitted since Sunday afternoon that the trends favored Lopez Obrador, whose victory has also been recognized by Mexican President Enrique Peña Nieto.
López Obrador will take office as president of Mexico on December 1, 2018 for a six-year term that will end on November 30, 2024.