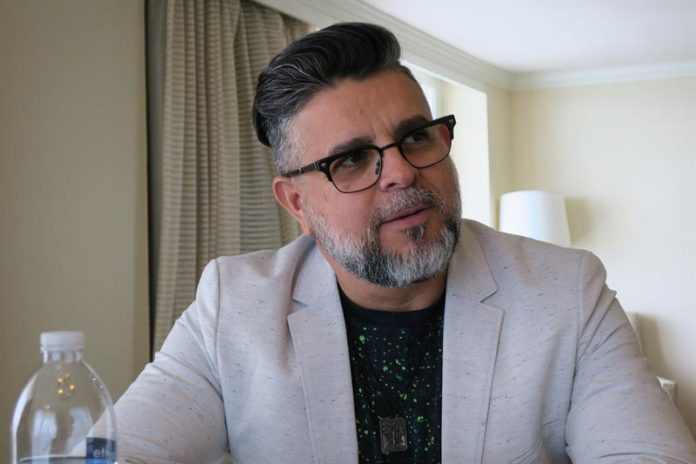 The Nicaraguan salsa singer Luis Enrique, who performed last night in San Juan, assures that the musical genre of salsa will continue to be active, regardless of the rhythmic tendencies that arise or as some believe differently, since its rhythmic rhythm and dance continue to spread internationally.
"Undoubtedly Salsa will continue, no matter what the trends, the salsa has traveled more internationally speaking, nowadays it lives in other countries that keep it alive because of its radio programs, the 'dj' that play salsa where dancers go," he said. The prince of salsa "to a group of journalists.
And is that since this rhythm was baptized in that way in the sixties in New York for its mix of Caribbean rhythms, -mainly Cuban- as the guaracha, the mambo, the pachanga, the guajira, the guagancó and the chachachá, It has spread to all corners.
An essential part of this impulse was caused by the Las Estrellas de la Fania orchestra, a group created by the Dominican musician Johnny Pacheco and the entrepreneur Jerry Masucci, who joined some of the most deeply rooted salsa exponents of that time in New York.
This orchestra, for its knowledge that the drum instrument, original of Africa, emerged the bongo, the conga and the timbales, traveled and presented itself in the Statu Hai Stadium (now called Tata Raphaël Stadium) of Kinshasa in Zaire in 1974.
Likewise, orchestras have appeared in countries as far away as America, such as Japan, which had the La Luz Orchestra, which had a good acceptance in the Western Hemisphere, and salsa congresses have also been held, along with dancers who champion these events, from European countries, such as Spain, Italy, Poland or Sweden.
In addition, for the creative idea of ​​merging Caribbean rhythms and that is why Pacheco named the genre "salsa", Luis Enrique admitted that he likes the fusions that have been created between the music he has been promoting since the eighties in Puerto Rico.
"I've never been someone to advocate purism in music, but to merge, my music has never been totally salsa, but to be wiser, and salsa is a deep fusion of many things," said the Nicaraguan artist. 55 years old, who performs this Saturday at Arena Live, in Hato Rey (San Juan).
"Music is a connection with people, no matter how commercial or current, there must be excitement, and that emotion will continue with the evolution of humanity, for me there is no better hook than emotion," the interpreter added. I dont know tomorrow".
That connection and emotion that also explains the interpreter of "Date a chance", "That's life", "Desperate", "Solo", "My world", among other successes, he lived since he came to Puerto Rico early from the nineties and quickly began to reap fruit with his music.
"Puerto Rico was my first Latin American country that traveled and identified with rivers, seas, mountains and food, for me that first part of my career is something I remember with great affection … I can not see Puerto Rico as anything else. a trampoline, not only my music as a musician, but my life as such, "he explained.
Luis Enrique arrived in this Caribbean territory in his adolescence, after traveling from Nicaragua to Mexico, going to the United States, where he was undocumented for ten years, until he arrived in Puerto Rico, where he said that "for the first time I saw economic stability "
The artist expresses this and other stories in his book, "Autobiography, The Prince of Salsa", where he tells the more than thirteen years in which he did not see his parents.
"Many people doubt what I went through so much to be successful, but that's life, there's a life before success, I dare say I'm not the only artist to have so many mishaps," he said.
"The book allows us to know more about the human being before the success that Puerto Rico made possible, the journey, that adventure of a child taking a plane and going to Mexico, after writing it, I have read it, and it is really strong", he abounded.
He affirmed that the book also expresses "how beautiful it is that you reaffirm many things, like the fortune of having saved me from so many things, of having grown above loneliness and the lack of necessary things, like your dad or your mom "