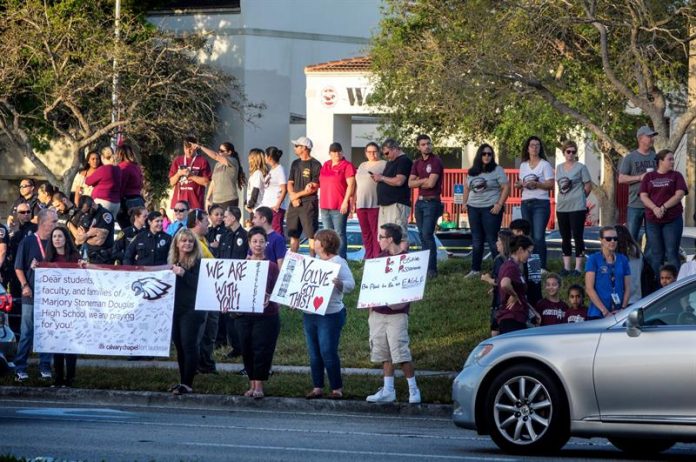 Relatives of the victims of the shooting in a school in Parkland, Florida, in which 17 people died, today presented an association to end the "American epidemic" of gun violence in the classroom.
The group "Stand with Parkland", also called the National Association of Families by Safe Schools, said that it will promote the responsible possession of weapons, the mental health of possible weapon bearers and the improvement of security in the classrooms.
"As parents and spouses of the victims of the mindless mass massacre of the Parkland school, we came together to do something about violence in our schools," the parents said in their Twitter account.
They expressed their commitment and desire to work with Democrats and Republicans for "the defense of public safety reforms focused on the safety of our children and the staff at school."
"We will work with policy makers at all levels of government and both political parties to develop and enact policies that address all the many facets that lead to violence in our schools," they said.
On February 14 Nikolas Cruz, 19, killed with an assault rifle that he had legally acquired 17 people from Marjory Stoneman Douglas High School, from which he had been expelled months earlier for disciplinary offenses.
The families of Parkland said that "they are inspired by the love and support of millions of people who have contacted us, the courage of the surviving students who have demonstrated and the millions who have left."
A few days after the Parkland massacre, surviving students of the massacre created the #NeverAgain (# NuncaMás) movement in favor of gun control and now aimed at supporting politicians aligned with their platform.
In addition to organizing a massive mobilization last March in Washington, among other activities, # NuncaMás has planned some 75 activities in various cities and electoral districts of the country to promote voter registration.
In the new National Association Families for Safe Schools have joined about thirty parents of the victims "so that no other family has to experience the pain we have had to endure."
"We will advocate for practical public safety reforms that guarantee the right of all children to attend school without fear." they pointed