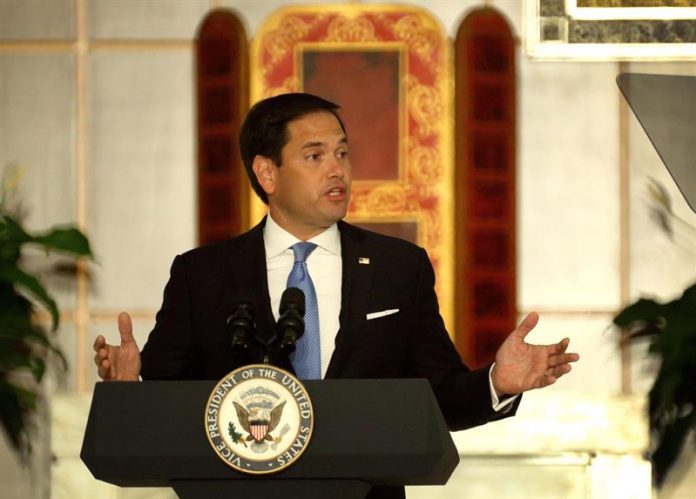 After visiting a shelter in Homestead, south of Miami, a thousand undocumented children, Florida Senator Marco Rubio said today that it was "heartbreaking" to know the stories of young people and children held in these facilities.
"It was heartbreaking to learn of the trauma and difficulties they endured in their homeland, and of their journey here as a result of being separated from their family," the Republican said in a statement.
Rubio promised to ensure the well-being of the children and "to be reunited with their parents as soon as possible."
"Their circumstances are the direct result of the combination of violence and instability in our hemisphere, and the policies and practices that have encouraged adults to take children on the dangerous journey of illegally crossing our border in the south," he said.
In a message on his Twitter account, Rubio acknowledged today that separating families is "cruel" and that although it will not be easy to reunite families, it is necessary to do so.
"We can never go back to the policy of separating families or freeing everyone," said Rubio two days after President Donald Trump signed an executive order that ended his policy of separating undocumented children from his parents. They cross the border with Mexico to keep them together.
The Floridian shelter, which began receiving undocumented minors since February, now houses almost 1,200 undocumented immigrants, of whom 70 are separated from their parents recently on the southern border, according to the Miami Herald, Leslie Wood, director of the enclosure.
Up to this shelter, with capacity for 1,350 children and which today had access to a group of local journalists, came last Tuesday Senator Bill Nelson and Congresswoman Debbie Wasserman Schultz, both Democrats, although they were denied access.
Nelson, an opponent of the policy of "zero tolerance" against undocumented immigrants that the Trump Administration has implemented, plans to hold a new visit to that shelter on Saturday to talk with the children separated from their families and verify the conditions in which they are being held. houses the undocumented.
That same day, organizations for the rights of the undocumented will make a rally in front of this shelter to ask for the release of minors and immigrant parents detained as a result of restrictive immigration policies.
The Department of Justice announced last April the application of the policy of "zero tolerance", which involves treating as criminals the undocumented people who enter the country and imprison them, so their children must be removed and sent to shelters, as was suspended after Trump's executive order.
The Floridian shelter was closed in April 2017 after welcoming hundreds of children who arrived without an adult company to the dividing line with Mexico, mainly from Guatemala, Honduras and El Salvador, but it was reopened at the beginning of the year after the increase in the arrival of these guys to the southern border.