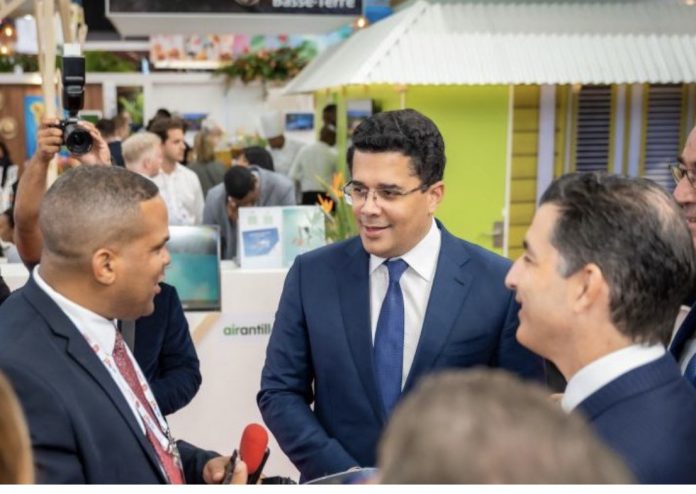 The executive president of Banco Popular Dominicano, Christopher Paniagua, highlighted the recovery of Dominican tourism by indicating that this sector has become a pillar of the economy.
Interviewed by Moisés González Peña, from the Despertar Nacional digital newspaper, in the framework of the 43rd edition of the International French Travel Market – Top Resa 2022, in Paris, France, Paniagua described as correct the strategy put in place by the Dominican Republic to recover the sector after the Covid-19 pandemic and that has made the country worthy of several international awards.
Likewise, Paniagua highlighted the support given by that financial entity to tourism. He maintained that historically, Banco Popular has been the "tourism bank", "its main financier", hand in hand with innovative investment instruments that contribute to the expansion and sustainability of its businesses.
In another order, the executive president of Popular will highlight the actions carried out by the bank in favor of the country, such as the restoration of urban parks or the recent contribution of RD$50 million to assist the families and communities most affected by the passage of the Hurricane Fiona.
Banco Popular, together with the Embassy of the Dominican Republic in France, offered a dinner in honor of the official delegation, investors and participating hoteliers
During the evening, which took place at the headquarters of the Dominican embassy, ​​in the city of Paris.
The event was led by Messrs. Rosa Hernández de Grullón, Plenipotentiary Ambassador of the Dominican Republic in France; Cristóbal Paniagua, executive president of Banco Popular; the Minister of Tourism, David Collado, and the president of the Association of Hotels and Tourism of the Dominican Republic (ASONAHORES), Rafael Blanco Tejera.