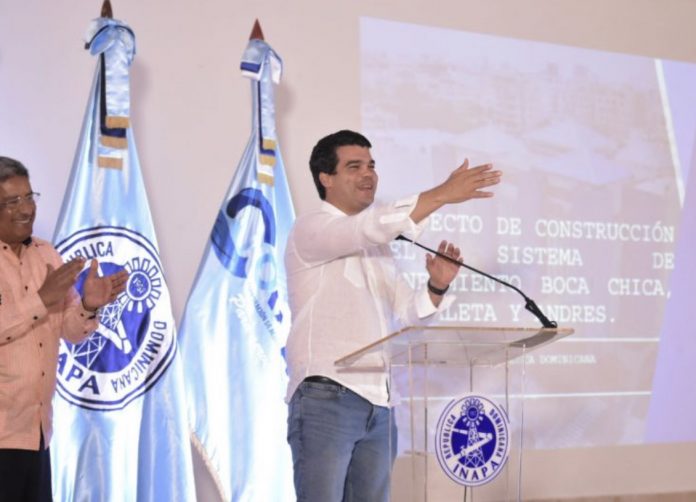 The National Institute of Drinking Water and Sewerage (INAPA), together with the Boca Chica Aqueduct and Sewerage Corporation (CORAABO) and the support of the Inter-American Development Bank (IDB), presented the construction project for the sanitation system in the tourist center of the Boca Chica Bay, with an estimated investment of 130 million dollars.
When offering the information, the executive director of INAPA, Wellington Arnaud, explained that the objective of the project is to offer the definitive solution for the sanitary sewer system of Andrés, Boca Chica and La Caleta and to increase access and quality to the sanitation service in this coastal area. and tourist of the country.
"We found a project whose amount was around 165 million dollars and we are going to carry it out with 130 million dollars, even expanding coverage to 45,000 more people than was stipulated, which is a sign that we are working with the heart, in favor of the human development of our people", expressed Arnaud.
He said that he will continue to focus on fulfilling the president's promise to bring clean water and sanitation to every Dominican home.
"We are doing a lot with little, managing the money of the Dominican people with transparency and efficiency," he said.
The work includes the replacement of existing networks, the rehabilitation of pumping stations, placement of new collection networks, construction of missing pumping stations, construction of a treatment plant and disposal of the effluent through an underwater outfall. All this seeks to protect public health, preserve the hydrobiological quality of aquatic ecosystems and comply with current legislation to discharge wastewater.
INAPA, with this important work, will benefit the inhabitants of Boca Chica, Andrés and La Caleta, whose population is 212,077 people.
Félix de León, director of Coraabo, also participated in the activity.