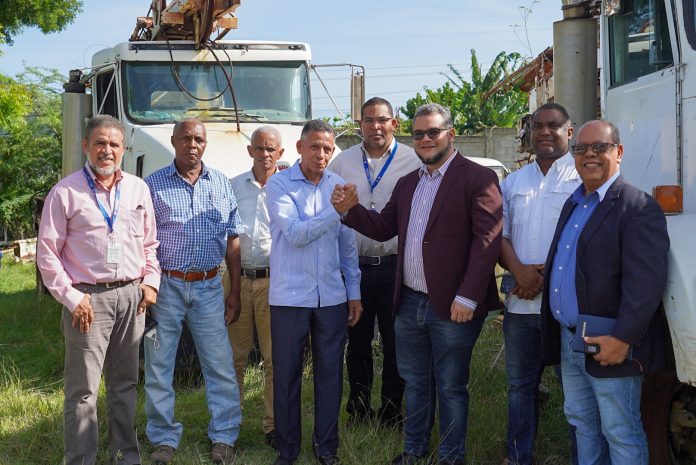 The National Institute of Hydraulic Resources (INDRHI) made available to the Special Fund for Agricultural Development (FEDA) two percussion drilling trucks that it kept in its facilities, received from the last management, out of operation, and that the latter undertakes to adapt for the construction of tubular wells that will benefit agricultural producers of the Northwest Line and other regions of the country.
At the meeting, held at the INDRHI facilities in the Ozama – Nizao region, was represented by its executive director, Olmedo Caba Romano, the deputy director Isidro Santos Camilo, while the FEDA's executive director, Hecmilio Galván, participated.
Santos Camilo highlighted the teamwork carried out by the institutions of the agricultural sector, as ordered by President Luis Abinader from the beginning of his administration, evidencing this agreement the commitment to work in favor of agricultural development. "This joint action is another of the many that we develop to bring solutions to the needs of the agricultural sector throughout the country," he said.
Meanwhile, Galván thanked Caba Romano and the officials of the hydraulic agency for making the equipment available to the FEDA, which will allow them, upon completion of their rehabilitation, to manage the water service for farmers and ranchers at different points of the national geography, specifically in sheep, goat and tilapia projects developed by said entity.
"Today, thanks to God and to the will of both INDRHI and ours, we are going to put them at the service of producers and add them to more teams that the Ministry of Agriculture and INDRHI itself have to be able to rotate them and fulfill the commitment assumed for the benefit of those who they ensure the food of our country", he said during the meeting.
On behalf of the FEDA, those in charge of Project Monitoring, Rafael Pérez, and Evaluation and Management, Manuel Herasme, also attended; while for INDRHI, there were also Juan Carlos Nova, director of Operations and Conservation of Irrigation Systems; Francisco Bremón, director of the Ozama – Nizao regional office, and Reynaldo Abreu, in charge of the Wells and Pumps Division.
More about this source textSource text required for additional translation information
Send feedback
Side panels