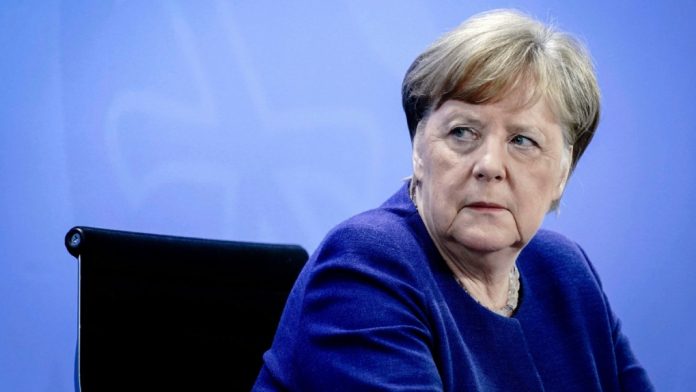 That the chancellor leaves office causes women to lose ground in politics again, at least in a symbolic way
The participation of women in public life is a human right, reiterates the UN.
Angela Merkel ceases to be Chancellor of Germany after 16 years in which she has done much more than politics. Her presence at the top of world power has broken down barriers and has favored the image of a strong and responsible woman in the collective imagination, which has helped to demolish the myth that politics is a man's thing. With her departure, there are 25 women heads of state or government around the world.
These 25 women in command, who have Magdalena Andersson as Prime Minister of Sweden as the latest addition – in the absence of knowing the final results of the elections in Honduras, where Xiomara Castro is leading – represent 5.9 percent of the heads of state of the 152 countries of the world. According to UN Women data, the percentage of female heads of government is slightly higher, but not even 10 percent: they are 8.8 percent of the world's government leaders.
In 2021, parity in politics has not arrived, not even with regard to the presence of women in the world's parliaments. Women represent only 26 percent in the courts – although the percentage has doubled in the last 25 years – and only five countries reach the desired balance. Rwanda leads the world, with 61.3 percent women in its lower house. After the African country are Cuba, Nicaragua, Mexico and the United Arab Emirates (UAE).
At the tail are Yemen, Vanuatu, Papua New Guinea, Federated States of Micronesia and Kuwait. They all have zero women in their lower houses except for Kuwait, which has one, meaning that women make up 1.5 percent in its Parliament. At this rate, parity in parliaments will take another 50 years to arrive. In the case of the leaders of states and governments, it will take 130 years, even though the current number is the highest in history.
However, the UN Women expert in the section of participation and leadership of women Julie Ballington remarks that "women are participating in politics in greater numbers than ever", which shows that change "is underway". And in this change, Merkel has had a lot to do with it, which is why her departure makes women lose ground in politics, at least symbolically.
One of Merkel's achievements has been to naturalize the image of a woman in the most closed and most important circles of power worldwide. There are several well-defined reasons that explain the lack of women in politics, but one of them – and one that also truncates the female presence almost from the beginning – is the lack of role models, which discourages girls and young women from taking action. time to embark on your political careers.
According to Ballington in an interview with Europa Press, political leaders do not participate in public affairs like men due to structural barriers. "Women have less access to resources and networks to run their campaigns," she notes, before adding that they also face "greater" resistance from party leaders, who "refuse to recognize their abilities as candidates and leaders. with potential to win. "
MULTIPLE OBSTACLES
This fact is linked to another obstacle: the lack of political will to support women's leadership hinders their participation and security. "This contributes to the promotion of gender stereotypes, which in turn makes change painfully slow," emphasizes the expert, who laments that, as a result, "everyone suffers: institutions are not truly representative or inclusive and progress slows down. "
Ballington also points to gender-based violence as an obstacle to female participation in politics. According to various United Nations agencies, civil society organizations and researchers, women who participate in politics are exposed to a "disproportionate" number of attacks based on gender. In the same way, they are singled out for raising their voices and for having a political opinion. "In the most extreme cases, they have paid with their lives," laments the UN expert.
"The participation of women in the public sphere is a human right guaranteed by a robust international framework," she explains, noting that, although governments play an important role in this regard, society has a "collective responsibility" to transform women's rights. gender norms and ensure that women are accepted as legitimate political leaders, as are men.
Strategies such as quotas can favor the participation of women and have proven to be effective measures to increase their numbers, and not only in politics, if they are well designed and implemented correctly. Data from UN Women show that of the 84 countries – 44 percent – that have established quotas by law have an average of 26 percent women in their parliaments, while these are 21 percent in countries that do not they have them.
"EFFECTIVE" AND "DECISIVE" LEADERSHIP DURING THE PANDEMIC
The COVID-19 pandemic is a good opportunity to assess female leadership, as politicians such as New Zealand Prime Minister Jacinda Ardern have stood out for managing it. Ballington explains that the pandemic has been a "test" for all of the world's leaders to "build trust and demonstrate empathy while making decisions in a life-threatening context."
An investigation by UN Women shows that leaders, "at all levels", responded to the pandemic "effectively". Among the trends observed, it stands out that the leaders communicated "directly and regularly" with citizens, while projecting "calm" and "compassion."
"They were inclusive when communicating, they addressed children, for example, and spoke about fear," according to the study, which also notes that, "compared to male presidents and prime ministers, women used less aggressive metaphors about the war. they frequently addressed citizen welfare concerns such as domestic violence more frequently and communicated individual or local consequences of the pandemic in more empathetic terms. "
Women also took action "faster" and more "decisively" to contain the spread of the disease. For example, they launched massive testing programs earlier and more frequently than their male counterparts.
In addition, the leaders prioritized the implementation of socially inclusive policies to respond to the pandemic. Thus, according to UN Women, they supported policies that addressed the economic and social impacts of COVID-19, including the disproportionate effects of the pandemic on the most vulnerable social groups.
Notable initiatives include aid packages that included food and other basic household items or additional funding for initiatives to counter violence against women.
What Ballington is clear about is that when more women occupy decision-making positions, they are "more inclusive", "different voices are heard" and "different solutions are created".