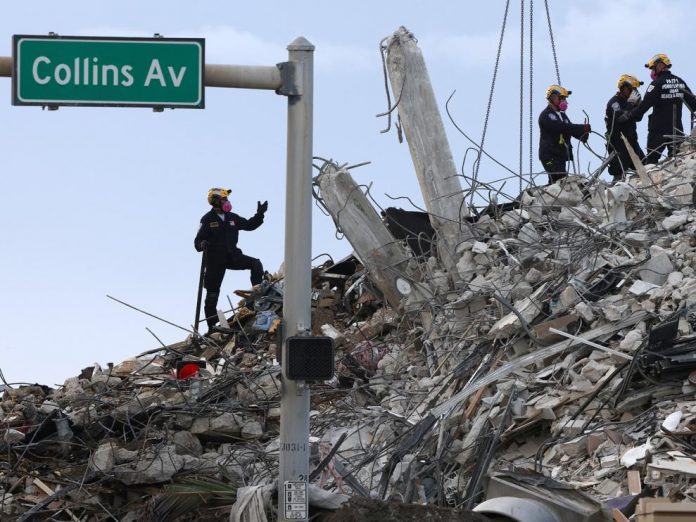 Authorities have raised the official death toll to 78 due to the collapse of a building in the town of Surfside, Florida, on June 24, after emergency services have already given up on locating survivors in the rubble of the twelve-story tower.
The new balance was provided by Miami-Dade County Deputy Fire Chief Ray Jadallah during a private briefing with the families of the deceased, collected in a recording published by the 'New York Times'.
Among the deceased are relatives of the first lady of Paraguay, Silvana Abdo – her sister, Sophia López Moreira, her brother-in-law, Luis Pettengill and the youngest of the couple's three children – as confirmed by the country's vice president. , Hugo Velázquez.
"My deepest condolences to the President of the Republic, Marito Abdo, and to the first lady, Silvana Abdo, for the departure to the Celestial Kingdom of the Pettengill-López Moreira family, so dear to our affections. Peace, consolation and much strength in this sad moment, "he said on his Twitter account.
Paraguay's foreign minister, Euclides Acevedo, told Paraguayan radio station ABC that the other two children and the family's nanny, Lady Luna, are still missing.
On Wednesday, a symbolic and emotional minute of silence paid tribute to the victims and marked the end of the search tasks as they were known until now, assuming that no more people will be found alive among the remains of a building that was completely demolished before the arrival of cyclone 'Elsa'.
The authorities have promised that they will continue working until all these disappeared are found, although they will do so without tracking dogs or listening devices, keys to detecting life. After the first hours after the collapse, the emergency services have not returned to locate survivors.
"The work continues with full speed and urgency," said Levine Cava, according to the Miami Herald, while indicating that the families of the victims were able to visit the site of the collapse again this Thursday.
After the demolition of the part of the building that was left standing this past Sunday, the rescue teams have found "an increasing number of people, all of whom had died," said Levine Cava.
The governor of Florida, Ron DeSantis, applauded the work of the search teams on Wednesday in the face of a tragedy that, in his own words, "will leave a deep wound for a long time" in this US state, which this week has also been pending the possible damage that the storm 'Elsa' could cause.
On his side, Miami Fire Chief Alan Cominsky has shared that he doesn't know exactly how many floors rescue teams have traversed or how long the operation may take. "The authorities are expecting progress to advance at a faster rate with our recovery efforts," he said.