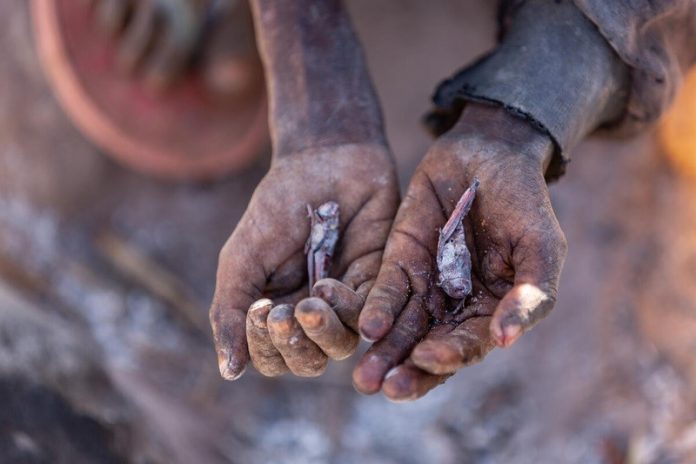 Eating lobsters or cattle feed, desperate measures to survive the prolonged drought
Southern Madagascar is experiencing the worst drought in four decades. More than a million people suffer serious food deficiencies, forced in some cases to survival measures such as eating lobsters or cattle feed with the sole purpose of subsisting in a context that the World Food Program (WFP) has called "the invisible crisis ".
The lack of rain that has dragged the southern part of Madagascar for five years has been added to the erosion of the soil derived from deforestation and sand storms that have made large agricultural areas impracticable, to the despair of those who depend basically on the primary sector. or they aspire to be self-sufficient.
Experts predict that the season of basic products such as rice, corn, cassava and legumes will leave crops this year that will not even reach half of the average of the last five years, which anticipates an even worse scenario for the phase that traditionally is already of shortage and that will begin in October.
WFP warns that local people have already used up all their supplies at the end of last year, leaving 1.14 million people severely food insecure. For the first time since the current methodology to measure hunger was introduced in 2016, the level of "catastrophe" has been reached, comparable to famine, in which there are already 14,000 Malagasy, which could be 28,000 in October.
Acute malnutrition in children under five years of age has practically doubled in the last four months, reaching an "alarming" 16.5 percent. In some districts, such as Ambovombe, the proportion shoots up to 27 percent, which for WFP shows that the food crisis clearly threatens the survival of thousands of children.
DESPERATE MEASURES
Thousands of people have been forced to leave their homes due to the virtual disappearance of the possibility of eating and, at points where humanitarian aid does not arrive, they resort to desperate measures such as eating any type of wild food in order to survive.
Eating lobsters, plants usually reserved to feed livestock or a mixture of tamarind and clay have been for some of these people the only alternative to lying down with nothing in their stomach, according to the WFP, which has also confirmed that a large part of the population He doesn't even have kitchen utensils anymore, sold in exchange for food.
The executive director of WFP, David Beasley, has been a direct witness to the situation in southern Madagascar, where he has been able to verify how there are people who walk for hours to get to one of the food distribution points set up by the agency. "And those are the ones who are healthy enough to do it," he warns in a statement.
Beasley stressed that there are already "people dying of hunger" and recalled that this is not a crisis resulting from war or conflict, but from climate change. In this sense, he has lamented that a part of the world that has done "nothing" to contribute to the deterioration of the planet "is now paying" the price for the excesses of others.
"We cannot turn our backs on the people who live here, with a drought that threatens the lives of thousands of innocents. It is time to stand up, act and continue to support the Malagasy Government to withstand the wave of climate change and save lives," he said. reclaimed.
The organization needs 78.6 million dollars (65.3 million euros) to provide a minimum of food to 674,000 people during the next lean season. WFP has already assisted 750,000 between October 2020 and May 2020, either through food distribution or with cash assistance.