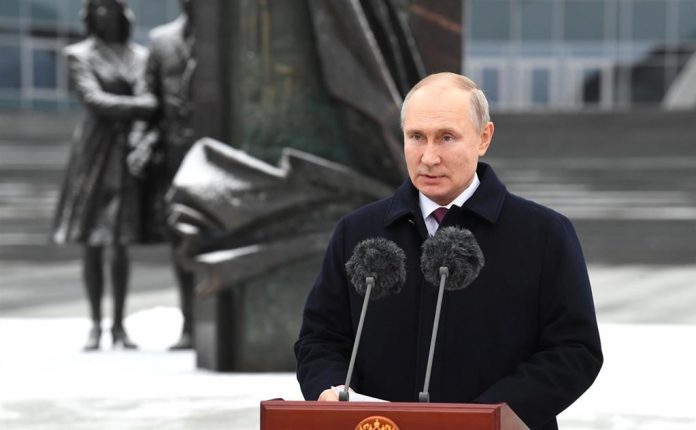 Russian President Vladimir Putin has warned this Wednesday of the risk that "crossing the red line" with Russia would entail and has promised that, in the event that any nation "destroys bridges" with Moscow, the response will be "asymmetric, immediate and energetic. ".
"We have enough patience, responsibility, professionalism, self-confidence and common sense when making any decision, but I hope that no one ever crosses the red line in relations with Russia," he warned in his annual message to Parliament. by the Russian news agency Sputnik.
Thus, he has stressed that it will be Moscow that defines the limit "in each specific case", but has pointed out that the Eurasian country does not want to "burn bridges" with any country.
"Indeed, we do not want to burn bridges and, if someone interprets our good intentions as indifference or weakness and permanently burns or destroys those bridges, they should know that Russia's response will be asymmetric, immediate and energetic," he emphasized, before promising that the who carry out provocations that threaten the security of Russia "will regret what they have done as they have not repented for a long time."
"If someone does not want to dialogue, chooses a selfish and arrogant tone, Russia will always find a way to defend its position," he insisted. Likewise, he has pointed out that Russia does not respond to some acts of some nations because it wants to maintain "good relations" with all members of the international community.
Putin has not specified what he meant by "red lines" and, later, the Kremlin has detailed that it is "interference in the internal affairs of Russia" and "insults".
At the same time, the Russian president has denounced that the "unfriendly acts" against Russia by the West "do not stop", making it look ugly that "for some countries, the attempts to attack" the Eurasian country "have become a new sport. ".
The relationship between Moscow and the West has been strained in recent weeks, due to the escalation of tensions on the border of the Eurasian country with Ukraine or the situation of the Russian opponent Alexei Navalni, currently imprisoned.