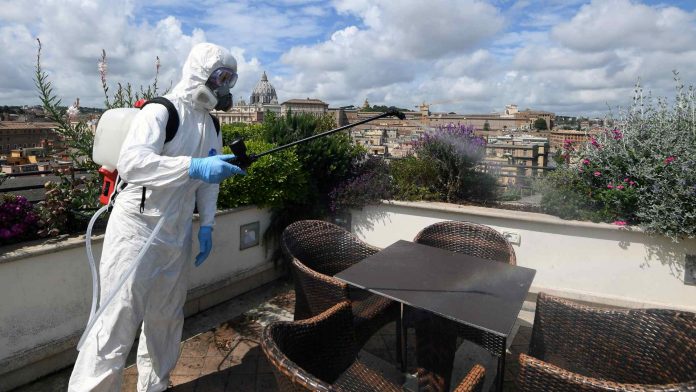 The coronavirus pandemic has left more than 490,000 cases worldwide during the last day, with which the total number exceeds 81 million infected, among which more than 1.7 million deaths have been registered, according to the data provided by Johns Hopkins University through its website.
Thus, during the last 24 hours, 490,741 infections have been confirmed, which places the accumulated in 81,294,343, with 1,775,661 deaths, while the number of people who have recovered from COVID-19 has exceeded during the day the threshold of 46 million to 46,054,686.
The United States continues to rank as the most affected country in total figures, with 19,308,467 cases and 334,963 deaths, followed by India, with 10,224,303 cases and 148,153 deaths, and Brazil, with 7,504,833 and 191,570. Russia, the fourth country with the most infections, with 3,073,923, has confirmed 55,107 deaths to date.
Behind the number of cases are France, with 2,619,616 and 63,235; United Kingdom, with 2,336,704 and 71,217; Turkey, with 2,162,775 and 20,135; and Italy, with 2,056,277 and 72,370, all of them above the threshold of two million infections.
Below two million cases but above 1.5 million infections are Spain, with 1,879,413 and 50,122; Germany, with 1,684,559 and 31,145; Colombia, with 1,603,807 and 42,374; and Argentina, with 1,590,513 and 42,868.
Still over a million cases are Mexico, Poland, Iran, Ukraine, South Africa and Peru, while below this threshold but above 500,000 infections are the Netherlands, Indonesia, Czech Republic, Belgium, Romania, Chile, Iraq , Canada and Bangladesh.
For their part, Pakistan, the Philippines, Switzerland, Morocco and Israel (they have exceeded the barrier of 400,000 cases, while in the arc of 300,000 cases are Portugal, Sweden, Saudi Arabia, Austria, Serbia and Hungary.
In the 200,000 range are Jordan, Nepal, Panama, Japan, Georgia, Azerbaijan, Ecuador, Croatia and the United Arab Emirates (UAE).
Above 100,000 positives are Kazakhstan, Bulgaria, Belarus, Lebanon, Slovakia, Dominican Republic, Costa Rica, Armenia, Denmark, Bolivia, Kuwait, Qatar, Moldova, Greece, Guatemala, Occupied Palestinian Territories, Egypt, Tunisia, Lithuania, Oman, Ethiopia, Burma, Honduras, Slovenia, Venezuela, Bosnia and Herzegovina, Malaysia, and Paraguay.
China, the country where the pandemic originated, counts 95,720 infected and 4,775 fatalities, as the Johns Hopkins University has collected on its website.