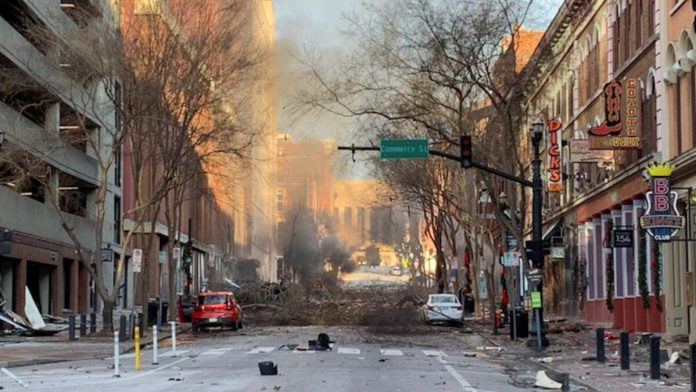 What appear to be "human remains" have been found near the scene of the explosion.
Three people have been taken to hospital with minor injuries after the explosion of a motorhome, in whose vicinity have also been found what "appear to be human remains", in the US city of Nashville.
The first hypotheses of the local authorities point to an "intentional act".
The mayor of the city has declared a state of emergency throughout the city for the weekend in which there will be a curfew starting at 4:30 p.m. local time (11:30 p.m. peninsular time).
The explosion, which caused extensive material damage, took place around 06:30 in the morning in front of the Davidson County Courthouse. At the moment it is unknown if when it happened there were people in the vehicle.
"We believe it had to be an intentional act," Nashville Police spokesman Don Aaron said, as reported by CNN television.
Nashville Police went to the scene for alleged shots. Upon arrival, the agents had no record of detonations, but they suspected the motorhome, from which came "announcements" about the explosion of a possible bomb in 15 minutes.
As the bomb squad arrived at the scene, the agents tried to evacuate citizens from nearby buildings. The explosion knocked one officer to the ground, while another suffered temporary hearing loss.
According to information gathered by ABC News, the detonation, which has left debris around several blocks, has damaged the structure of several buildings and has caused the closure of the surrounding streets.
The United States Federal Police (FBI) is already taking over the investigation, while agents from the Department of Alcohol, Tobacco, Firearms and Explosives have traveled to the scene.
"We will find out what happened here," said the FBI, which has alluded to "investigating" certain leads and carrying out "technical work" within the framework of the investigations.
For his part, the special agent in charge of the investigation, Matt Foster, has asked citizens to provide the authorities with "any" information related to the explosion and the Police have published a photo of the motorhome and asked for clues about it to the citizenship.
Acting Attorney General of the United States, Jeff Rosen, has already been informed of the incident and has ordered that "all" resources of the Department of Justice be used to assist in the investigation.
The governor of Tennessee, Bill Lee, has also expressed himself in this line, who has indicated on the social network Twitter that the state will provide "all the necessary resources" to determine the cause of the explosion.
The president of the United States, Donald Trump, who is in Florida spending the Christmas holidays, has also been informed of what happened and receives "regular updates" on the event.
For his part, the president-elect, Joe Biden, has issued a statement in which he thanked front-line personnel for their response to the explosion, while wishing the injured a "speedy" recovery.