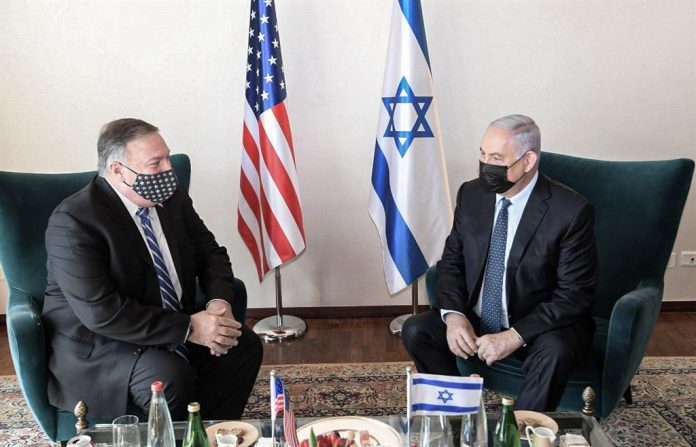 Israeli Prime Minister Benjamin Netanyahu secretly traveled to Saudi Arabia on Sunday to meet with the country's crown prince, Mohamed bin Salman, amid speculation that the kingdom could follow in the footsteps of Bahrain, the United Arab Emirates and Sudan. and sign a peace agreement with Israel.
Netanyahu traveled accompanied by the head of the Mossad, Yossi Cohen, and the US Secretary of State, Mike Pompeo, also participated in the meeting, according to Israeli sources cited by the newspaper 'Haartez', which has given the scoop on the trip.
Although for now there is no official confirmation of the historic trip, a Netanyahu adviser has come to confirm the information with a message posted on his Twitter. "Gantz is playing politics while Netanyahu is making peace," Topaz Luk wrote on the aforementioned social network.
With this, the adviser refers to the announcement on Sunday by the Defense Minister, Benny Gantz, of a government commission to investigate the alleged corruption in the purchase of submarines from Germany, which would affect the prime minister.
According to the 'Yediot Ahronot', neither Gantz nor Foreign Minister Gabi Ashkenazi, members both of Azul and Blanco, Netanyahu's Likud coalition partner, were informed in advance of the trip despite the fact that on the same Sunday they had agreed on a act in memory of David Ben-Gurion.
Netanyahu spent about four hours on Saudi soil. The two left at 7:50 p.m. in a private plane from Tel Aviv airport and landed at 8:30 p.m. to return to Israel after midnight.
According to the state media Kan, the talks focused on Iran, a common enemy of Israel and Saudi Arabia, and the future administration of Joe Biden in the United States. The prime minister traveled on businessman Ehud Angel's plane, the same one he used for his secret trip to Oman in May 2019.
In recent weeks, there has been speculation that Saudi Arabia could follow in the footsteps of Bahrain and the United Arab Emirates, like Sudan, and sign a peace agreement with Israel. US President Donald Trump, who has mediated in the achievement of these agreements, has said on several occasions that soon there will be other Muslim countries that make peace with the Israelis, expressly citing Saudi Arabia.
According to various media reports, Prince Mohamed would be in favor of signing the peace agreement but his father, King Salmán, would not be in favor of taking that step at the moment.
This same Sunday, the Saudi Foreign Minister, Prince Faisal bin Farhan al Saud, said that the kingdom "has supported normalization with Israel for a long time, but one very important thing must happen first: a complete and permanent peace agreement between Israelis and Palestinians. "