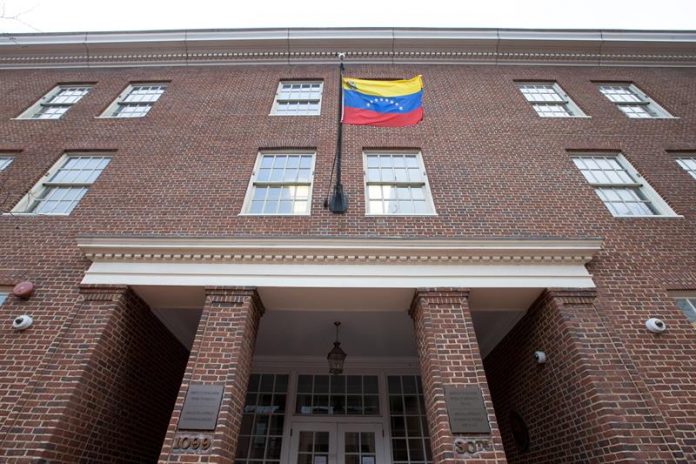 Washington, – A group of US activists overnight at the Venezuelan embassy in Washington to prevent the envoys of opposition leader Juan Guaidó from taking control of the facilities.
The activists entered the embassy on Tuesday, invited by representatives of the Nicolás Maduro government after the men of Guaidó took two diplomatic buildings from Venezuela in Washington and the consulate in New York on Monday.
The envoy of Guaidó in Washington, Carlos Vecchio, said during the occupation of these buildings in the US capital (military attachements) that he also intends to take control of the embassy in the "next few weeks".
In the embassy and the buildings that depend on it there is no Venezuelan diplomatic staff, who has broken relations with Washington, although they are workers of the delegation.
The initiative to spend the night in the embassy is Code Pink, which for weeks has organized protests in Washington against the strategy of the Government of Donald Trump in Venezuela and the envoys of Guaidó, which in January was awarded the powers of the Venezuelan Executive as president in charge.
A co-founder of Code Pink, Medea Benjamin, told Efe today that they expect her "peaceful presence" at the embassy to be a deterrent for Vecchio and the other representatives of Guaidó. "It's a preventive thing," he explained.
In case they try to enter, the activists will ask them "with what legal basis they intend to enter when the Government of Maduro is the one with the power", although they do not expect to resist to do so.
Benjamin, however, asked the Trump government to "comply" with its international obligations and not to allow the envoys of Guaidó to take diplomatic facilities in US territory.
"We are scared, it is a dangerous precedent, if they can do this in the United States, they can do it to us in other countries," added Benjamin, who slept last night on a sofa in the embassy.
The US Government he was the first to recognize Guaidó as the legitimate agent of Venezuela and also recognizes Vecchio as his representative in Washington.
That is why the taking of the three diplomatic buildings occurred with the approval of the Government, which offered Vecchio the "same support" as any other diplomatic mission, a spokeswoman for the State Department explained to Efe.
However, in the case of the embassy, ​​the building is also the headquarters of the Venezuelan mission to the Organization of American States (OAS), in which there are diplomats from Maduro, who were the ones who invited Code activists. Pink. (EFEUSA).