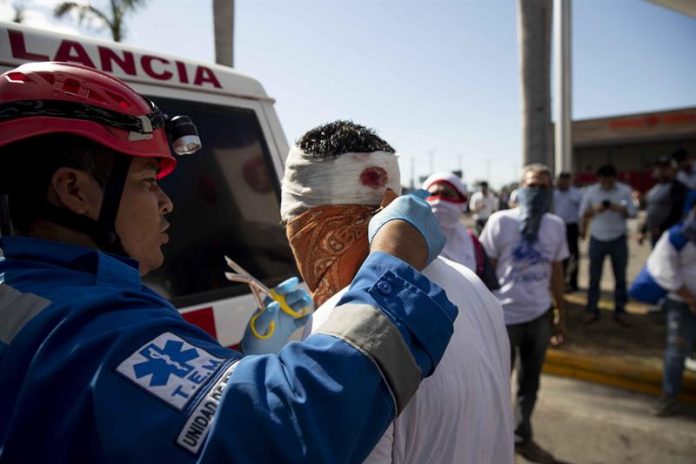 Washington, DC – The Inter-American Commission on Human Rights (IACHR) today condemned the "repression" against journalists and demonstrators in Nicaragua, where at least 31 people were captured by the police on Saturday before an anti-government demonstration.
"The #CIDH condemns the repression of the National Police in #Managua and in other points of # Nicaragua.The State must cease attack on journalists and demonstrators who peacefully expressed themselves today for the release of political prisoners, and must give information on detainees and injured, "the agency wrote on its Twitter account.
The executive secretary of the Commission, Paulo Abrão, reiterated the same message in his own account of the social network.
A few hours before, the autonomous organization of the Organization of American States (OAS) had warned in another tweet that he was aware of "a police and civilians device deployed in Managua before the march to demand the release of political prisoners in Nicaragua".
"The State must safeguard the safety of the protesters and respect the right to protest," the IACHR recalled.
According to the opposition group Unidad Nacional Azul y Blanco, Nicaragua's police captured at least 31 people on Saturday, including journalists and opposition leaders.
The former Minister of Education Humberto Belli, former Sandinista Mónica Baltodano, the members of the negotiation table with the Government of Azahalea Solís and Max Jerez, the opposition leader Ana Margarita Vigil and the veteran journalist Marlen Chow are among those captured and beaten by the Police of Nicaragua, detailed the Unit.
The captures were made in the first kilometers of the Carretera a Masaya, the point where a march would take place to demand President Daniel Ortega the "unconditional and absolute" release of the "political prisoners", in the midst of the crisis that has left hundreds of deaths in the country since April of last year.
The arrests occurred violently and included shots, according to several testimonies, as well as beatings to a photojournalist from the AFP agency, who denounced that the agents "stole" his camera.
Police reported Friday that they had not given permission to the demonstration, but the Unit appealed to the rights of expression and mobilization consigned by the Constitution of Nicaragua to confirm the march.
Nicaragua suffers a serious crisis that has left 325 dead in 11 months, according to the IACHR, although some local humanitarian groups raise to 561 the fatalities, while President Ortega only recognizes 199 and denounces an attempted coup d'état. EFEUSA)