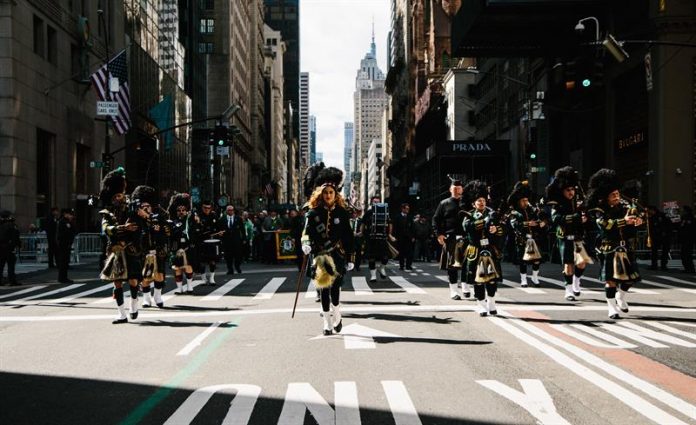 New York, .- Hundreds of thousands of people attended today the Parade of Saint Patrick of New York, which is celebrated in the city of skyscrapers since 1762, which makes it the celebration in honor of the oldest Irish patron of the world .
Some 150,000 people, members of the various Irish associations that exist in New York, toured the popular Fifth Avenue in Manhattan, from 44th Street to 79th Street, with an important presence of bagpipes and bands and, of course, the green of Ireland.
The Irish and their descendants also proudly showed the three-leaf cloverleaf, a national symbol, which St. Patrick used to explain the Holy Trinity.
The organizations that paraded today, some of them several centuries old, were mostly formed to help the large number of Irish emigrating to New York to settle in the city and find work and residence, and currently try to preserve the culture of Ireland in the city.
It is estimated that this year, the 258th edition, around two million people will come to admire the event, considered the largest parade in the world of St. Patrick and one of the most important of the year in New York.
On this occasion, the procession, which is celebrated for six hours, is dedicated to the emigrants, as explained by one of the directors of the organization of the St. Patrick's Day Parade in New York, Hilary Beirne.
"This year we think of all the emigrants of the world, and we honor the life and the legacy of our ancestors who arrived in New York, the best city in the world," he told local media outlet NBC New York.
Although US President Donald Trump was not mentioned openly, the president of the St. Patrick's Day Parade in New York, Sean Lane, also expressed a position diametrically opposed to that of the president, underlining the positive effects of immigration.
"While we honor our roots in this country, we know that today's immigrants can enrich this city and this country, just as the Irish did before them," Lane said in a statement.
The mayor of the city, Bill de Blasio, thanked the work of the Irish, and stressed in statements during the celebrations today that "no other community has helped for so long to build the best city in the world."
The city police deployed a large contingent to ensure the safety of citizens, for which they used canine units and helicopters.
"You have to pay attention to what is happening in the world," said New York Police Commissioner James O'Neill, a day after the massacre at two mosques in Christchurch, New Zealand, which has left 49 dead
As every year, the procession was headed by the 69th Regiment of the National Guard of the State of New York, founded in 1850 by Irish immigrants, and who has participated in all armed conflicts in the USA (EFEUSA)