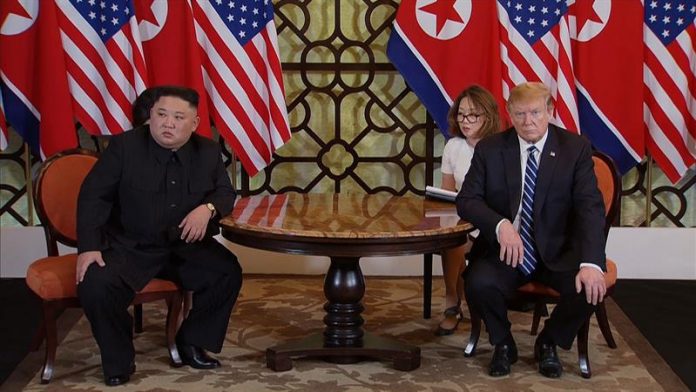 Washington, – South Korea and the US Washington held the first meeting of its bilateral working group to address the failed Hanoi summit between North Korean leader Kim Jong-un and President Donald Trump, as well as efforts to denuclearize North Korea.
In a press conference, one of the spokesmen of the State Department explained that the two parties spoke of the process to achieve a "definitive, total and verified denuclearization" of North Korea, as well as the implementation of the condemnatory resolutions of the Council of Security of the UN
"The two parties reaffirmed their commitment to continue organizing these meetings regularly, these consultations and coordinate with other partners," said Robert Palladino.
The delegation of Seoul was headed by the general director of the department for peace in the peninsula of the South Korean chancellery, Rhee Dong-yeol; while the US delegation was led by Deputy Assistant Secretary of State for North Korea, Alex Wong.
It was the first meeting after the Hanoi summit of the so-called "working group" established by the United States. and South Korea in November to boost dialogue with North Korea on denuclearization, in which Seoul has acted as an important mediator between Washington and Pyongyang.
As reported by the agency Yonhap on Wednesday, the meeting was scheduled to address ways to revitalize the process after the lack of agreement in Hanoi.
In addition, according to Yonhap, Seoul wanted to address the possibility of Pyongyang receiving exemptions to some sanctions against it with the aim of holding video meetings of Korean families separated by the war that took place between 1950 and 1953.
In order for these meetings to be held by videoconference, it is necessary to transfer certain equipment to the North that is subject to sanctions.
The February summit in Hanoi between Kim and Trump closed without agreement and staged the important differences between the two sides on how to address the denuclearization process.
USA he has said he wants to achieve the denuclearization of North Korea before the Trump mandate ends in January 2021; but, from Singapore, there has been no progress on the issue of denuclearization due to the lack of a road map with procedures and deadlines. (EFEUSA)