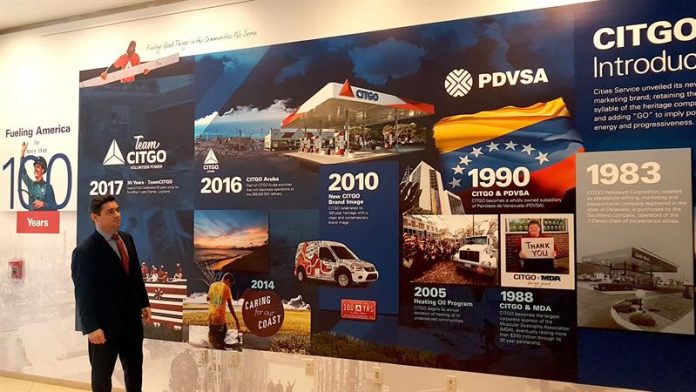 Washington, Venezuela – Venezuela will need "great resources" from multilaterals, but also from the private sector to overcome the deep crisis it faces, on Thursday delegates of the opposition leader Juan Guaidó predicted in Washington, for whom the country's economic collapse "does not It has precedents. "
"The country is going to need large resources of support from the multilaterals to be able to face having reserve amounts that can allow the support of the currency," said Daniel Sierra, public policy adviser to Guaidó, who last January proclaimed interim president of Venezuela.
During the meeting "Plan País: constructing the new Venezuela – A roadmap for reconstruction", organized by the Atlantic Council think tank, it considered necessary the multilateral support so that the country does not have "to finance the deficit through the monetary investment "and deal with hyperinflation.
Sierra referred to "five critical areas" that a transitional government in Venezuela should address, including the complex humanitarian crisis, which it described as "multilevel, multidimensional and requires massive humanitarian aid from the international community."
He also pointed to the security crisis, warning that in a transition stage "Venezuela will face a situation of control of territories, of irregular groups", an aspect in which, he considered, cooperation from "multiple organizations" will also be needed.
For his part, Carlos Vecchio, representative of Guaidó before the Government of the United States, stressed that the Venezuelan crisis "is the worst" in the recent history of his country.
Vecchio lamented that his country has lost 50% of the size of its economy, with an inflation projection of the International Monetary Fund (IMF) of 10,000,000% and pointed out that oil will be "the essential engine" for a recovery.
In this context, he said that in a transitional stage it will seek to "preserve" Petróleos de Venezuela (PDVSA) as a public company and discarded its privatization.
"There is no proposal to want to convert PDVSA into a private company," he added, and denounced that "87% of the people of Venezuela today are on the poverty line."
The meeting was also attended by the president of the Inter-American Development Bank (IDB), the Colombian Luis Alberto Moreno, who considered it "very depressing" to see the reality of Venezuela today.
"I do not know of another case in the history of Latin America of a country of this size that has become impoverished, has self-destroyed from its private sector to government institutions," he said.
Moreno, who joined a bloc of governments headed by the United States. who have recognized Guaidó, however, affirmed that this Friday the board of governors of the IDB, made up of 48 countries, will have to pronounce on their support for Guaidó. (EFEUSA)