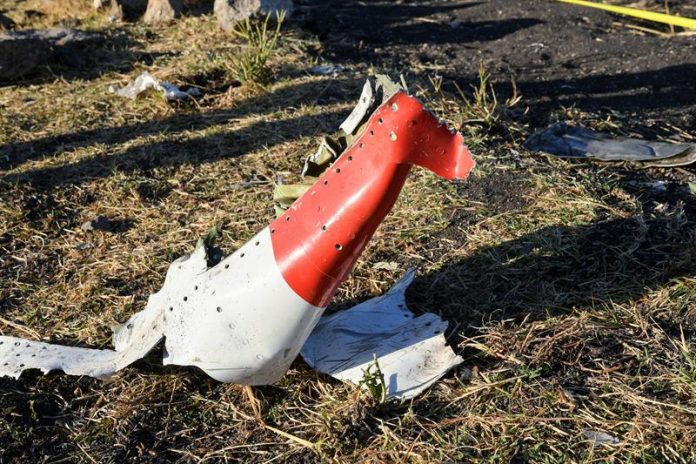 Washington, DC – The Ethiopian Airlines pilot who led the flight on Sunday in Ethiopia reported "flight control" problems after takeoff and requested an airstrip to return to the Addis Ababa airport.
"I'm requesting a return home, I'm requesting a vector (navigation system) to land," the pilot said in apparent panic to the controllers, a person who has reviewed communications between the ship and the control tower told The New York Times.
The recordings, which have not yet been made public, indicate that one minute after the takeoff the pilot would have reported, even in a calm voice, a problem of "flight control" with his aircraft, a new Boeing 737 MAX 8.
At that time, the radars of the control tower showed that the plane was flying at an altitude well below the minimum considered safe during a takeoff.
Two minutes later, according to the source of The New York Times, the pilot, Yared Getachew, with 8,000 hours of experience, would have managed to raise the aircraft and was preparing to climb to 14,000 feet (4,267 meters).
It was then that the controllers realized that the aircraft was rising and falling sharply hundreds of feet and flying at an unusually fast speed.
Aware that some problem was occurring, in Addis Ababa's control tower "they began to wonder aloud what the flight was doing".
The controllers ordered two other flights approaching the airport to remain at a safe height while dealing with the emergency when Getachew, in panic, requested a return lane.
Getachew obtained permission to land but a minute later the plane disappeared from the radar.
In the sinister of this flight, the 302 of Ethiopian Airlines to Nairobi, 157 people died.
The similarities of the accident with another 737 MAX 8 occurred in Indonesia in October, causing regulators in the US, the European Union, China, Turkey, Australia, Mexico and South Africa, among many other countries, to have suspended the flights of these Boeing planes until the causes are clarified.
Boeing, on the other hand, paralyzed deliveries of the 737 MAX 8 model on Thursday. The aeronautical giant has accumulated a loss of more than 27,000 million dollars in market capitalization this week. (EFEUSA)